He stands on street corners wearing white makeup and wild red hair, staring at people passing by. Sometimes he knocks on people's doors, offering to paint their homes, but he never carries any painting equipment with him. Only a bunch of balloons.
This is the Clown of Northampton, and he's been freaking out more than just some English citizens.
Since Friday, images of the clown have been posted on Reddit's r/WTF and r/creepy communities. 
"Well yesterday, people claimed to see It at various points of the day, in different locations," Reagansmash1994 commented Saturday. "Descriptions of It are different and people are saying it's more than one person doing it."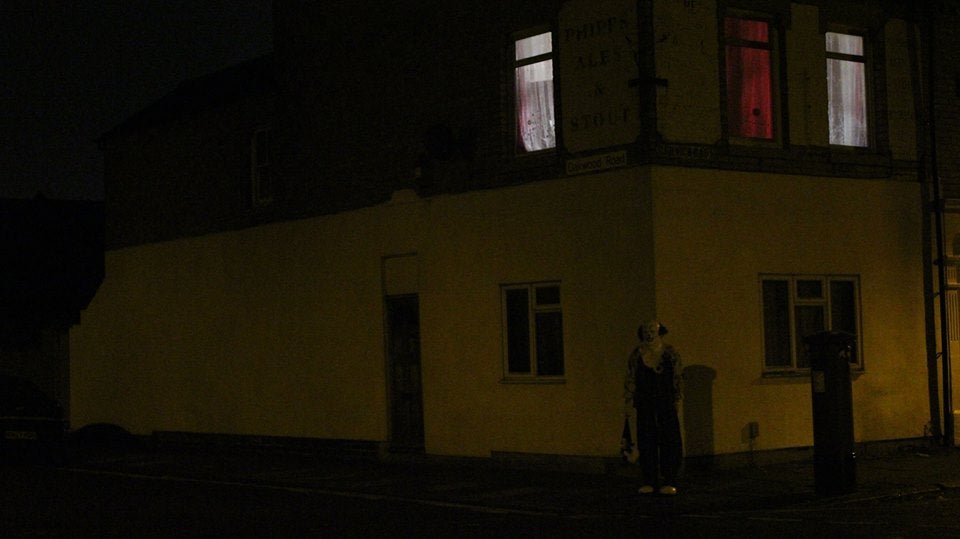 One theory being thrown around is that the clown is part of a viral marketing campaign for the horror film All Hallows' Eve, due out around Halloween. The movie is directed by Damien Leone and tells the story of a homicidal clown that wreaks havoc on a quiet American town. 
A Facebook page was started Friday by someone claiming to be the clown. This person has used the page to give insight into why he's been scaring the locals. The page has 37,000 likes. The Twitter hashtags #clownwatch and #northamptonclown have been used to track sightings of the clown. Both hashtags have been mentioned more than 3,000 times since midnight.
Well done to @SewStudioNpton who have produced this t-shirt celebrating the town's favourite son. #northamptonclown pic.twitter.com/OUiyH9sr6A

— Daniel Owens (@DanielOwens1979) September 16, 2013
The Daily Dot has reached out to the Facebook user for a comment.
On the page, he denies being part of a viral promotion for a local live-action horror attraction:
"I'm also 'not' apart of Dr Fright's Night for those interested but it seems to be promoting them and others which is great! I 'haven't' been knocking on houses and asking to paint window sills!? I may have to change my appearance as the actor in that 'Local Clown' film has the same costume as me. If what i am doing does get too much for people, I will have to stop."
UPDATE: The Northampton Clown has finally broken his silence after a flurry of media attention from the likes of the Huffington Post and the New York Daily News. In an interview with the Northampton Chronicle & Echo, the clown stated that his antics are all in good fun and inspired by It, the horror series based off Stephen King's novel of the same name.
"Most people enjoy being a bit freaked out and then they can laugh about it afterwards," the clown stated anonymously. "It's like watching a horror movie, when people get scared they usually start laughing. Naturally, some people would have been extremely frightened by what they saw, but I hope many are starting to see it as a bit of harmless fun."
Photos via Reddit