Heads up, Wade Wilson fans: The Deadpool movie you never thought you could have is… still not coming to theaters any time soon. 
But the good news is that Marvel fans can finally get a taste of what it could've been. A new leak of test footage filmed in 2012 reveals what a Deadpool movie action sequence might be like. The footage features Ryan Reynolds reprising his role from X-Men Origins: Wolverine as the snarky "Merc with a Mouth."
In the new footage, which is directed by Tim Miller, we see Reynolds throwing out all the classic tricks of Deadpool's trade: singing, dancing, random banter with confused villains, and casual ass-kicking. If you watch the footage and come away feeling slightly dazed and confused, don't worry—Deadpool has that effect on everyone.
Comics writer Rob Liefeld first dropped hints about the clip at last year's Comic-Con, while script writers Rhett Reese and Paul Wernick (Zombieland) told ScreenRant a year ago the test footage was "amazing." What do you think? Were they right?
The number of comic fans who want a Deadpool movie is all of them. Can you blame them? No one around is as cool as Marvel's famous villain turned anti-hero who mostly pals around with Cable and Spider-Man while out-quipping bad guys and being generally badass. Deadpool's rogue trickster status and his unpredictablity have turned him into what is perhaps the world's best-known meme in cosplay form, which basically consists of Deadpool cosplayers being as unpredictable on the convention floor as Deadpool would be onscreen.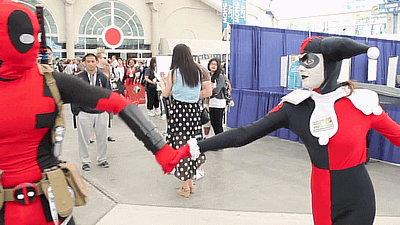 GIF by cosplaysleepeatplay/Tumblr
Unfortunately, the leaked footage doesn't really get us any closer to having a Deadpool film. For one thing, to really do the character justice, the film would need to score at least a PG-13 rating, and probably higher, since when he's not singing along to hip-hop, Deadpool's kind of an amoral hitman with the face of a rotting corpse. Not so much the quintessential Marvel hero.
And while it's true that Ryan Reynolds defied all expectations and gave a great turn as the fandom favorite, despite only having a few minutes of screen time in X-Men, he's already had his star superhero turn as the Green Lantern.
The studio with franchise rights over Deadpool is 20th Century Fox, which was last known to be having issues with the screenwriters' commitment to creating a "hard-R" script. But despite everyone ever wanting it to happen, it's been two years since Marvel chief Kevin Feige last mentioned the film as an active project. In the meantime, the early draft script for the project as well as the new footage have both surfaced online. 
Although copies of the leaked footage are being yanked from YouTube as fast as they're going up, Flickering Myth has kindly uploaded a mirror for you to enjoy when you're in the mood for snarky world domination.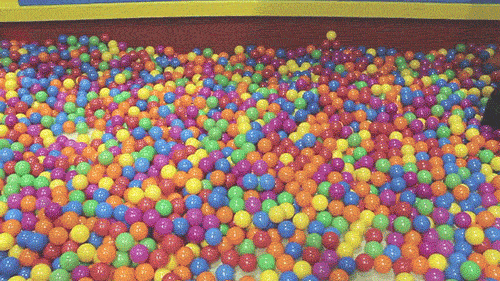 GIF via Imgur
Update: The YouTube video has predictably been taken down, but you can still see the footage in the Daily Motion video above.
Photo by briannabites/Flickr (CC-BY-SA 2.0)