Here at the Daily Dot, we swap GIF images with each other every morning. Now we're looping you in. In the Morning GIF, we feature a popular—or just plain cool—GIF we found on Reddit, Canvas, or elsewhere on the Internet.
Presenting: the Slovenian Superman. Not only can he perform heroic feats of snow-clearing on first aid huts, but he can do it while flying to escape an avalanche.
That ladder is steel. That drop is impressive. That recovery is … miraculous.
A simple snow-clearing in Slovenia turned into a disaster, which turned into an amazing recovery, which turned into a viral YouTube video, which was set to private when the mighty Gawker spotted it. It was swiftly reuploaded to Liveleak, and then GIF'd by the vividly named Burt Reynolds Is My Spirit Guide. Truly, in the 21st century, there are few moments which can escape GIFing.
Don't try this at home: not only won't you get on Gawker, but you'll probably die horribly. Why? Because you are not the Slovenian Superman!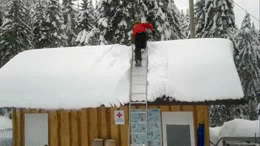 GIF via Burt Reynolds Is My Spirit Guide/Gawker