Here at the Daily Dot, we swap GIF images with each other every morning. Now we're looping you in. In the Morning GIF, we feature a popular—or just plain cool—GIF we found on Reddit, Canvas, or elsewhere on the Internet.
Congratulations, soldier: You can fly.
Don't you think games would be better if they left some of the glitches in? This one, from the forthcoming Arma 3, looks particularly blessed by the Randomness Fairy.
Arma 3 is a macho military first-person shooter that takes place in the Greek Islands, as the forces of the West face off against an Army of the East led by Iran (this is not a repeat from the Battle of Thermopylae).
This is surely a stranger sight than anything King Leonides had to deal with. No wonder the guy on the right backs off cautiously and the protagonist can't bear to shoot, but stands frozen in awe of this mysterious creature's majestic progress. Shooting this glorious apparition would be like blowing away a camo-clad leprechaun; it would have to be a bad omen at the very least.
Kotaku has a roundup of the best glitches in the game, which is still in alpha testing for reasons which become obvious about the time you scroll down to the aircraft carrier popping itself up on shore like a stately steel sea lion in search of a little time out on the beach. I can't imagine the slick, finished game will be anything like as much fun as a world peopled with fly-swimming camoprechauns, land-crawling aircraft carriers, and headless bodies that could give Retarded Running Horse a run for his money.
The post has 32,505 views and 52 comments, and that doesn't count all the ones from irate game producers that their IT department caught and killed before they got posted.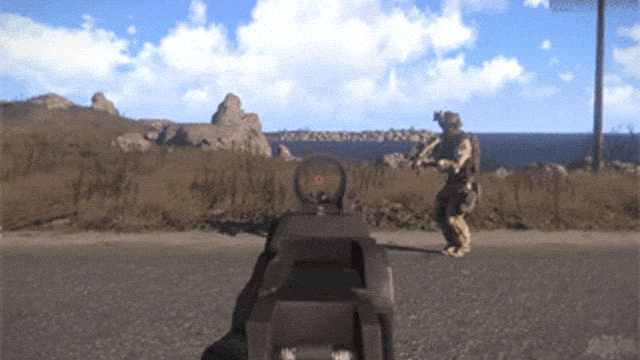 GIF via Kotaku