A university student in New Jersey learned a hard lesson about data backup—and the power of the Internet—when he inadvertently gave his laptop password out to the entire campus.
"Jim," who is enrolled in a Ph.D. program at Rutgers University in New Brunswick, N.J., discovered that his laptop was missing on April 19. Since the computer contained roughly five years' worth of research toward his doctorate, he was desperate to recover it, or at least its data.
"A lot of people are asking me why I didn't back up my data," Jim told the Daily Dot. "I think the reason is that I am pretty busy recently and this kind of thing never happened to me before."
Unfortunately, learning a lesson the hard way still wasn't enough to bring his computer back. In addition to contacting Rutgers security and asking friends for leads, he also covered the campus in posters. The posters contained very specific instructions and details regarding his dilemma, including his laptop's password.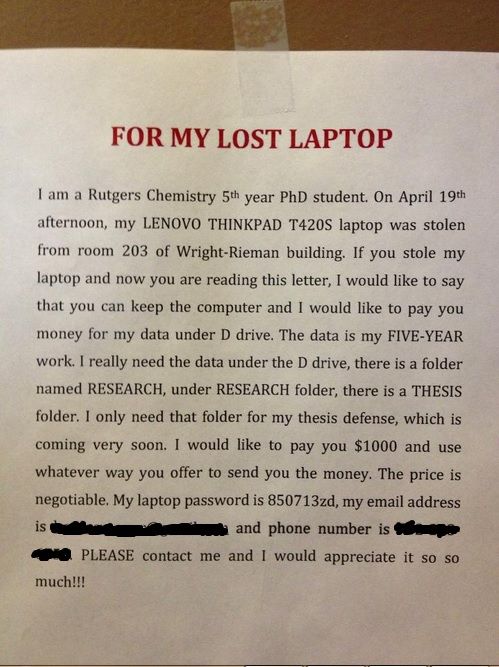 Little did Jim know that his situation would be exposed to a community much bigger than the campus of Rutgers University: the Internet.
"Some kind people took a picture of [the posters] and posted them on Facebook and other social networks," Jim said. "I myself didn't post anything on any social website."
Jim's story spread throughout Facebook and soon made its way to other websites, including Neatorama.
"I cannot believe how quickly it spread and I am a little bit unprepared for this," Jim admitted. "It doesn't feel good that a lot of people know your info, but at the same time, maybe it can help me get some clues [as to the whereabouts] of my laptop."
Jim has been contacted by many well-wishers since the posters went viral, offering everything from encouragement to prayers to even money. He has also suffered several scamming attempts.
"There are a few people sending me messages saying they have my laptop and asking for money, but when I asked for proof, they cannot give anything to me," he said.
So far, Jim's laptop has not surfaced and he has resigned himself to the fact that he must begin from scratch.
"Hopefully my incident can remind other people to back up their stuff all the time," he said.
Jim now saves his work on two external hard drives and on the online storage service DropBox. 
Art by Fernando Alfonso III; laptop via qubodup