Luke Carey became perhaps the first guy to ever score a date on Reddit—and he did so with the daughter of a former presidential candidate.
Meghan McCain took to the social news site on Friday for an AMAA ("ask me almost anything"). The live interview was to promote her new reality talk show, Raising McCain, which premieres tonight on Pivot and iTunes.
After some small talk on campaign finance reform, global warming, working on Saturday Night Live, legalizing marijuana, Carey, under the username counting_saturn, told McCain that he thinks they'd have a "great time on a date."
One upvote led to another, then McCain wrote "it's on like Donkey Kong."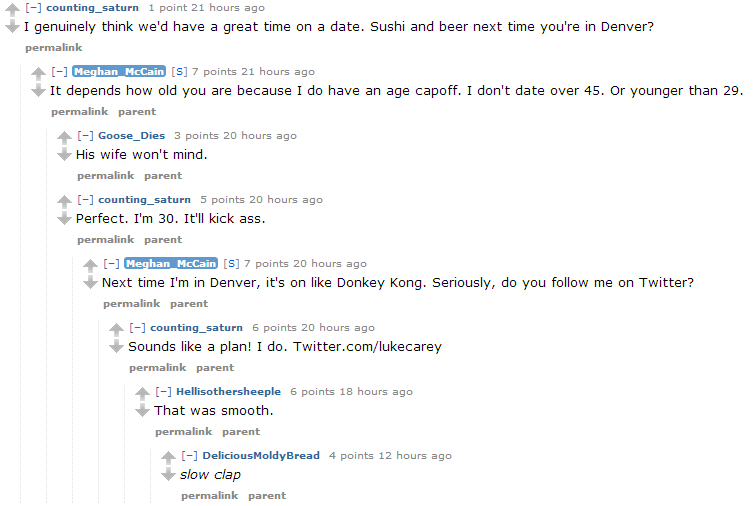 Just in case there was any doubting his sincerity, Carey doubled down on Twitter:
@MeghanMcCain Looking forward to sushi and beer in Denver!

— lukecarey (@lukecarey) September 13, 2013
Then he gave her a little something to look forward to:
@MeghanMcCain Get excited! pic.twitter.com/L1M9Pr95vS

— lukecarey (@lukecarey) September 14, 2013
Now we just need to get McCain to Denver.
Isn't that what Crowdtilt is for?
Photo via @MeghanMcCain/Twitter