At this weekend's Oscars, Matthew McConaughey is widely expected to take home the Best Actor trophy for his performance in Dallas Buyers Club, capping off a remarkable Hollywood comeback.
After a string of rom-com duds made McConaughey an industry punchline, a perpetually shirtless beefcake who radiated smarm, the actor's career was seemingly over in 2008. (Does anyone remember that The Ghosts of Girlfriends Past was even a thing?) But since his 2011 turn in Bernie, McConaughey reinvented himself by taking roles made for a character actor, just with a leading man's face behind them. From Killer Joe and Magic Mike to the indie sleeper hit Mud, he let out his inner Christopher Walken to stunning effect.
McConaughey's impressive run during that time period is all but unrivaled, with eight acclaimed film performances in the span of three years; he even made time for an appearance on Eastbound and Down, as well as cementing himself a future Emmy win with True Detective, the Internet's new favorite show. In the digital and Netflix age, McConaughey has become a transmedia darling. But all that success has led Entertainment Weekly's Karen Valby to wonder: "Would it be the same if Matthew McConaughey were a woman?"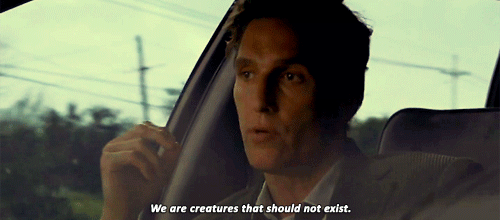 "I wonder if McConaughey's story is less about bravery than about the gift of being a white, middle-aged male actor," Valby argued. "Yes, he's brilliantly milked his McConaissance, but it's because he's navigated his career with powerful agency. He chose unpredictable supporting roles in films like Magic Mike and The Wolf of Wall Street, while digging deep into messy hero stories in Dallas Buyers Club and Mud. Try to picture any of the man's former romantic co-stars — Kate Hudson, Jennifer Garner, Sarah Jessica Parker, or Jennifer Lopez, to name a few — having a shot at a single role as weird and surprising."
Hollywood is filled with the comeback stories of down-and-out actors showing a side of themselves audiences had never seen. (Just look at the work of Robert Downey Jr. and Ben Affleck in the last decade.) But aside from Sandra Bullock and arguably McConaughey's Mud costar Reese Witherspoon, both of whom Valby cites as outliers, where is the same redemption for women? For every Glenn Close or Jessica Lange, who has found a second life as a cable television goddess, tinseltown is littered with Winona Ryders and Michelle Pfeiffers, the comebacks that fade just as quickly as they emerge.
There's a simple explanation for that: supply and demand.
The film industry is overrun with great actresses looking for work and settling for whatever they can get. Hilary Swank, a two-time Oscar winner capable of turning in some of the most powerful screen acting ever recorded on film, was last seen in New Years' Eve, nominated for five Razzies. Swank's co-star, Halle Berry, found herself in an alarming number of bad movies after winning an Oscar, and character actresses like Maggie Gyllenhaal, Amy Ryan, and Parker Posey similarly struggle to find parts worthy of their talents. Actresses like Bullock can remain successful primarily because too many other women struggle.
It's unlikely that any of the aformentioned ladies will get that Magic Mike role, a chance to prove themselves again, simply because there aren't that many parts for women, period. According to the recent 2014 Diversity Report, women account for just 26 percent of all lead roles, leaving few job opportunities for name actresses looking for work. Lupita Nyong'o is likely to win an Oscar alongside McConaughey, the current favorite in the Best Supporting Actress race, but where's her Oscar bump? Nyong'o is currently slated to be in just one upcoming film, next weekend's thriller Non-Stop, this year's entry in Liam Neeson's ongoing quest for revenge against the world. Her part would have been filmed long before she ever had the chance to step on a red carpet.
For actresses who are lucky enough to turn choice character work into sustained success, the perks still aren't the same. You don't get the same cred. During the mid-2000s, Julianne Moore's talent got lost in mainstream duds like Freedomland, Next, and The Forgotten, and even her indie fare (Trust the Man, Savage Grace) failed to take off. Like Affleck, Moore has a weakness for middling thrillers, but in the past few years, she's been proving her incredible range with roles as diverse as The Kids Are All Right, A Single Man, What Maisie Knew, and Crazy Stupid Love.
However, Julianne Moore has yet to get her own McConnaissance out of the deal. She hasn't been nominated for an Oscar since 2002, since Moore went from pushing 40 to 50.
According to Kristin Scott Thomas, this is because women in Hollywood are, as the French put it, "stuck between two chairs." Thomas, now 53, told Vanity Fair, "I'm no longer 40 and sort of a seductress, and I'm not yet a granny." The magazine backs up her assertion. Vanity Fair's Josh Duboff reminds us, "In 1996, Thomas played Ralph Fiennes's lover in The English Patient; in 2013, she played the mother of Fiennes's love interest (Felicity Jones) in The Invisible Woman."
The difference between Moore, Thomas, and McConaughey is that while aging is a strike against an actress (see: Nicole Kidman's face), getting older is a boon to actors. If young, serious actors are too good-looking, it's easy to dismiss them as pretty boys. Tom O'Neill calls it "Slap the Stud" syndrome, citing it as the reason for Oscar snubs of actors like Ryan Gosling and Leonardo DiCaprio, both of whom routinely come up empty-handed. Unless you drop weight (Christian Bale) or otherwise obscure your attractiveness, AMPAS voters usually like their male nominees old and their women young.
Last year's actress winners, Jennifer Lawrence and Anne Hathaway, averaged 26 years old at the time of their wins. Their male counterparts, Daniel Day-Lewis and Christoph Waltz are an average 55.5 years old. That's almost three decades difference.
This is not to say that these actors weren't just as deserving of their awards as the 44-year-old Matthew McConaughey will be on Oscar night, when he celebrates his renaissance with what surely will be yet another charming speech. Standing on the world's biggest stage, he'll remind us why we love him, his just-keep-living spirit a testament to his own career resilience.
If only women in Hollywood were so indestructible.
Photo via The Wolf on Wall Street