Matthew Keys, deputy social media editor at Thompson Reuters and one of the storied news organization's most recognizable young faces, has been indicted on charges he conspired with members of the hacking group Anonymous, the Justice Department announced today.
The indictment accuses Keys of helping Anonymous hackers gain access to the Tribune Company websites shortly after he was fired as Web producer for Tribune affiliate KTXL FOX 40 in Sacramento, California. According to the chat transcript shown below, Keys allegedly handed over login credentials to the hackers.
From the Justice Department's press release:
The three-count indictment alleges that in December 2010 Keys provided members of the hacker group Anonymous with log-in credentials for a computer server belonging to KTXL FOX 40's corporate parent, the Tribune Company.  According to the indictment, Keys identified himself on an Internet chat forum as a former Tribune Company employee and provided members of Anonymous with a login and password to the Tribune Company server.  After providing log-in credentials, Keys allegedly encouraged the Anonymous members to disrupt the website.  According to the indictment, at least one of the computer hackers used the credentials provided by Keys to log into the Tribune Company server, and ultimately that hacker made changes to the web version of a Los Angeles Times news feature.
Here's what the hacked site looked like, via Reddit: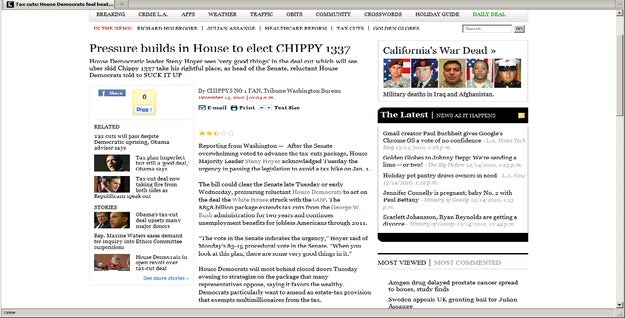 Keys faces up to 25 years in prison and up to $750,000 in fines. 
UPDATE: It appears Keys was outed on Twitter as far back as March 2011 by none other than Hector Xavier Monsegur, a.k.a. Sabu, the former leader of hacking crew Lulzsec who later became an FBI informant.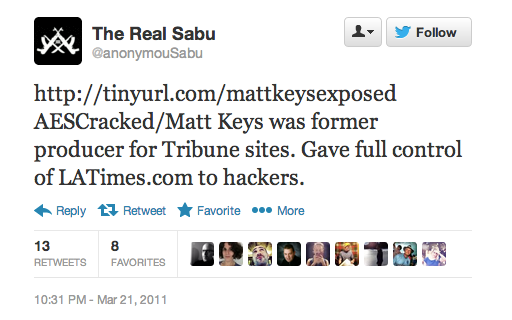 Read the full indictment here. "That was such a buzz having my edit on the LA Times," says Anonymous. "Nice," Keys responds.
On Wednesday night, Keys told a Gizmodo source he was "pretty sure he was going to get fired."
CORRECTION: This story originally claimed Keys was facing a maximum sentence of 30 years. He actually faces 25 years.
Photo via TheMatthewKeys/Twitter