Manchester United spoiled the identity of its new manager on Facebook before publicly confirming his appointment.
Reports Thursday suggested the team was in discussions with Everton to acquire the services of that club's manager, David Moyes, following the news that long-serving United boss Alex Ferguson is to retire at the end of the season.
However, before any public confirmation emerged that Moyes is in at United, the team ruined the big reveal by confirming his appointment through Facebook. A keen-eyed redditor spotted a new app on the team's Facebook page, in which it encourages fans to send a message of support to Moyes.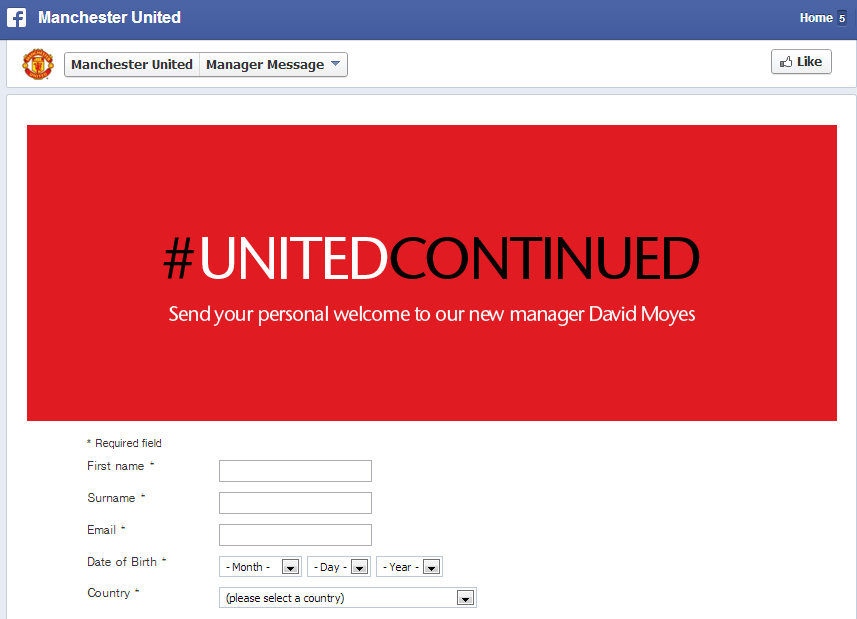 Sky News also reported the error.
Manchester United mistakenly confirm on club's Facebook account that David Moyes is confirmed as new manager

— Sky News Newsdesk (@SkyNewsBreak) May 9, 2013
United told the BBC that no deal had been struck at the time the app was spotted and it was not sure how its Facebook page was updated. The app was quickly deleted.
Soon after the errant Facebook app was found, Everton confirmed Moyes is to leave the team with United his intended destination.
OFFICIAL: Everton can confirm that David Moyes will leave the Club at the end of the season. More on evertonfc.com. #EFC

— Official Everton (@Everton) May 9, 2013
Two hours after the appearance of the errant Facebook app, Moyes was confirmed as manager on a six-year contract.
As a publicly traded company partially listed on the New York Stock Exchange, Manchester United is required to immediately disclose any significant information regarding the running of the club, so it certainly seems to be a mistake that the app would appear before the news was public.
Such was the case when rumors of Ferguson's imminent departure spread across the soccer world earlier this week. The announcement was made before the NYSE opened for trading Wednesday.
United was certainly confident in getting its man, though it jumped the gun in adding the Facebook app.
Photo of Moyes via Beanyman62Sports/YouTube