San Francisco writer Lisa McIntire is not a Bank of America customer. The red, white, and blue megabank was trying to solicit her services via an "exceptional offer for the BankAmericard Cash Rewards Visa credit card." 
The unfortunate part is that they addressed the offer to Lisa Is a Slut McIntire. And sent it to her mom.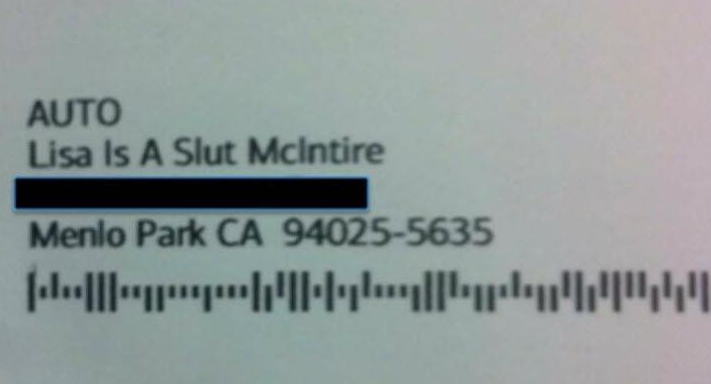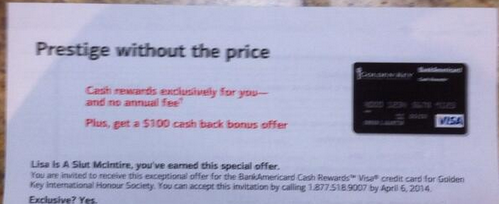 McIntire says that the unfortunate middle name came by way of Golden Key, an International Honour Society headquartered in Atlanta, Ga., at some time between 2004 and 2008, though its reasons for origin are not known. At some point within that four-year stretch, an individual working for Golden Key tampered with her personal information.
The information got passed along to Bank of America, who shares data with the honors society and evidently does not screen for this particular curse word. McIntire added that she received phone calls from both Golden Key and Bank of America. While both were apologetic, neither was able to offer much information concerning the middle name.
McIntire learned about the letter via a morning text message from her mother, which she posted onto Twitter a few hours later.
Um. pic.twitter.com/koYjGsoF1m

— Lisa McIntire (@LisaMcIntire) February 6, 2014
Her day sort of spun out from there, with her timeline showing somewhat of a balancing act between jokes and legitimate efforts to deduce what had happened. For a while, it seemed like her only friend was her buddy's dog. 
Daley doesn't slut-shame. RT @daleythedog: Cuddling with @LisaMcIntire, my most famous friend. pic.twitter.com/DAwH8wh26p

— Lisa McIntire (@LisaMcIntire) February 7, 2014
That's when the local news started broadcasting their reports. Within minutes, both the letter and her slutty ways were attached to every broadcasting affiliate in San Francisco. Before long, somebody had started a Facebook fan page for her.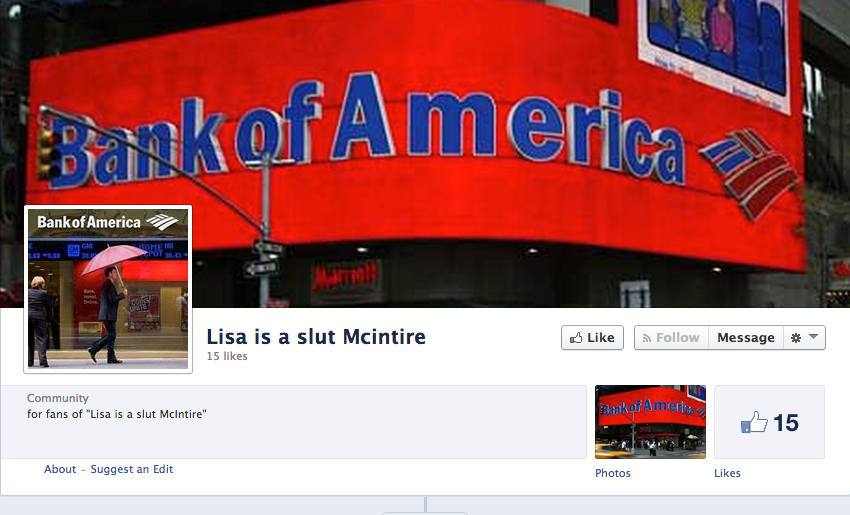 McIntire does appear to be having a good time with it now. Her Twitter biography reads "Ask me about my middle name."
"It does amaze me that there isn't isn't more of a flag for maybe certain words or phrases going up in someone's name field," she told the Los Angeles Times. No kidding.