Here at the Daily Dot, we swap GIF images with each other every morning. Now we're looping you in. In the Morning GIF, we feature a popular—or just plain cool—GIF we found on Reddit, Canvas, or elsewhere on the Internet.
Former Indiana Pacers shooting guard Reggie Miller made the swish his calling card. He's widely considered to be one of the greatest pure shooters to ever play professional basketball. 
After last night's herculean performance against the San Antonio Spurs in the NBA Finals, the Miami Heat's LeBron James may go down in basketball history as the best pure blocker.
During the fourth quarter of Sunday night's game, James "had one of the most spectacular plays of the year, and probably the most impressive of the Finals," USA Today reported. The play involved James, a 6'8" power forward, blocking a dunk attempt from 6'11" center Tiago Splitter.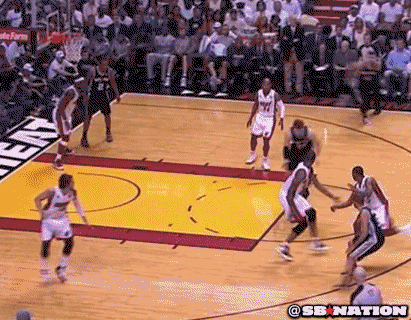 "Basically I told myself, 'You'll end up on SportsCenter where you're going to get dunked on or you're going to get a block,'" James told ESPN after the game. "Luckily, I was on the good side of the Top 10 and the Not Top 10."
James's dunk helped propel the Heat to a 103-84 beatdown of the Spurs to tie the series 1-1.
The block was so spectacular it was also the main image on the homepage of ESPN this morning.