They say Los Angeles is a town of faking it till you make it. But no one has taken that adage to heart more than California civil attorney Svitlana Sangary.
In her case, faking it means Photoshopping herself next to over a hundred prominent politicians, actors and A-list celebrities. With just a few clicks, Sangary has inserted herself next to everyone from Barack Obama to George Clooney.
The crudely manipulated images, which still adorn the wall of her "Publicity" page as if it were a New York deli showcasing celebrity clients, have landed Sangary in some hot water recently. According to The Recorder, a six-month suspension has been recommended by a State Bar Court judge for what has been classified as "deceptive advertising."
But Sangary might not be as deceptive as she is just plain odd. When these allegations of false advertising were first brought against her in January of 2014, she responded with what Judge Donald Miles described as "a 16-page soliloquy," written in third person. She writes:
Sangary is a prominent donor and philanthropist, supporting important social causes, who had recently received the email from President Obama with the subject line 'I need your help today,' asking … for an additional donation.
Legal suspension aside, Sangary should be prosecuted for her astoundingly terrible Photoshop skills. The most laughable example being the following photo in which she placed her head on Nicky Hilton's body without managing to remove Hilton's remaining brunette locks.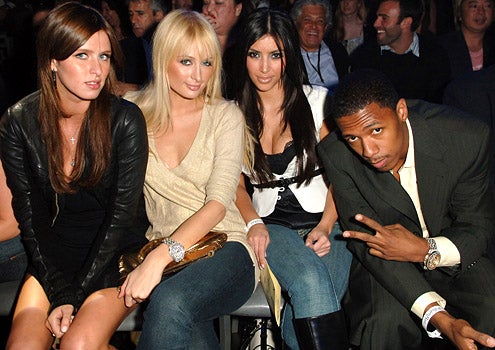 Photo via TV Guide

Photo via California Civil Lawyer.com
But we will concede some kudos to Sangary for being smart enough to hide her bad photoshop skills behind microscopically small images.
H/T Daily Intelligencer | Photo via Guest of a Guest | Remix by Jason Reed