Heyyyyy laydeez! Trying to find a man who can keep you warm in the wintertime? Have you ever thought about dating a mustachioed man on a unicorn? Have we just settled upon your dream date without you even knowing that? Because if so, girl, get on Tinder. There's a man waiting for you who's got all the tricks to make your toes tingle.
Meet Mateo (Mateo!), a 32-year-old with a dope-ass necklace and a unicorn. He's guided by sunlight, and he's interested in taking you to dinner. 
"As a recently divorced woman, jumping back in the dating pool has been… interesting," says the anonymous woman fortunate enough to come upon Mateo. 
You've just got to believe, dear Tinderer. You've just got to believe. Are unicorns real? You could ask the same about love.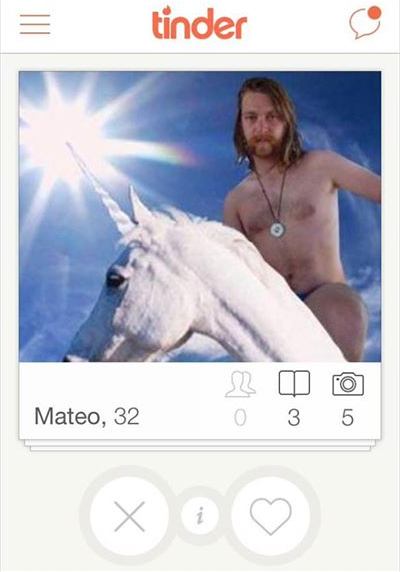 H/T Huffington Post, Photo via Imgur