Filling out a work application can be a soul-sucking experience. If you're a teenager looking for your first job, the application process can be especially daunting. The Lawrence, Kansas–based Pet World, which only hires in January and August, might have one of the most detailed job applications we've ever seen.  
The entire month of August is devoted to the hiring process. If they're interested in a candidate, there's the usual online, phone, and in-person interviews. If you make it through all those hoops, then you must survive a group interview, otherwise known as "Fright Night." 
In the FAQ section that follows, which consists of 10 steps to getting hired at Pet World, "Fright Night" is explained in detail:
We make this group interview as uncomfortable as possible in an attempt to weed out the weakest applicants. You'll handle and carry heavy merchandise, view live feedings, and hear all the behind-the-scenes dirty-jobs horror stories we can muster. Applicants have cried, become ill, and even fainted during this interview. Seriously. Very often one person leaves during the break and doesn't return. No kidding! PW employees have affectionately nicknamed the group interview "Fright Night" with good reason. We want no misunderstanding that working at Pet World is easy. It's not!
If you don't run away from Pet World in tears, then it's on to a letter of intention, and "shadow" shifts! The actual job application has even more details, stating, "Pet World is like Disneyworld with animals." However, unlike at Disneyworld, employees must anticipate being "bitten regularly," but also remember to be constantly "smiling and radiating joy the entire time."
Then, apparently, they're required to forget about the whole thing. On Facebook, where the application has been making the rounds, a former employee of Pet World was asked if there was a "Fright Night":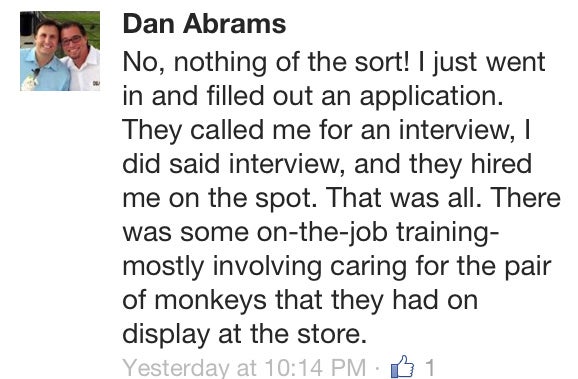 Good luck out there!
Photo via witz/Flickr