A gas mask, Chanel balaclava, and a Guy Fawkes mask are just some of Justin Bieber's questionable fashion choices in 2013. But his saggy leather pants, without doubt, have raised the most questions and turned the most stomachs.
Bieber revealed the true purpose of his lousy legwear Tuesday. During a show at New Jersey's Prudential Center, Bieber picked up a phone a fan tossed on stage and stuffed it down the front of his pants. The crowd cheered wildly.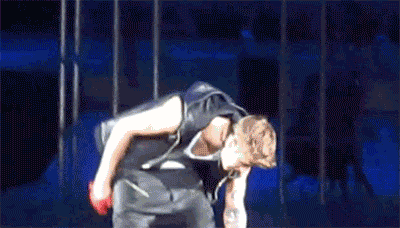 This GIF came from a video that's now been viewed on YouTube more than 227,000 times. In it, the Biebs warns his fans not to throw anything because they're distracting him. No one listens.
"I have always defended Bieber, even though I'm not a fan," insomniajones commented. "No more. His behavior the past year seems as though he's slowly going down the wrong path. I would imagine his mother isn't exactly thrilled over his antics on and off stage. Maybe he's tired of his good guy image, but it's sure better? than watching him hang onto his crotch onstage."
H/T ViralViralVideos | Photo by s_eckert/Flickr