Justin Bieber's harmonious pipes have the power not only to charm—but to kill.
Look no further than Twitter to see the thousands of crazed (just kidding!) fans who badger Bieber on a daily basis. Judging by how seldom he tweets, it must be quite the chore to take time out of his day of working out and friendzoning Selena Gomez to scroll through his mentions.
And it's terrifying! So many teens tweeting about how they will kill themselves and murder others if Bieber doesn't perform a secret ear-tug at his Dublin shows or a retweet.
Then there's Black Keys drummer Patrick Carney, who trolled Beliebers by changing his name on Twitter to Justin Bieber and tweeting the word "swag" 30,000 times.
It's a Beliebers' world on Twitter—especially today, on Justin's 19th birthday—and we're all just living in it, barely avoiding being murdered.
Yet it's somehow saner than the tweets at One Direction.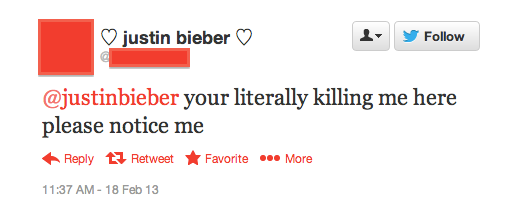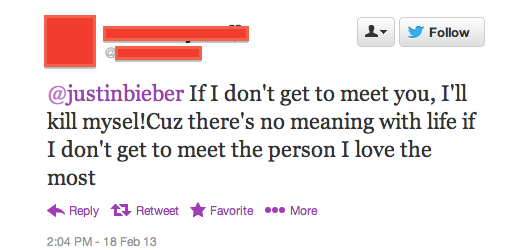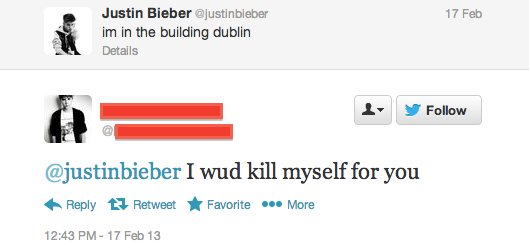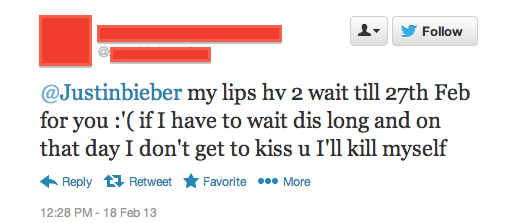 It gets worse. Beliebers, immersed in the culture of violence, are threatening Justin's haters.

Photo via OhBarcelona/Flickr