At first glance dwarves and Fraggles may not have much in common, but when you look closer, they're more alike than you might suspect. They're both short and share a love of mining and adventure. And both look great in DeviantArt user euclace's recent portraitures, wherein the dwarves from Peter Jackson's adaptation of J.R.R. Tolkien's The Lord of the Rings and Jim Henson's lovable puppets are ready to dance their cares away down in the Mines of Moria.
"I thought it might be nice if, instead of a dragon, the Dwarves found Fraggles in their mountain," wrote euclace on DeviantArt about her decision to cross Tolkien's epic fantasies with the Henson puppet series Fraggle Rock, beloved by kids young and old. "And they became friends and sang songs and ate radishes. And nobody had to die."
In the first pair, the noble Thorin Oakenshield, a popular character in Jackson's recent film adaptation, gets friendly with a lively Fraggle named Red: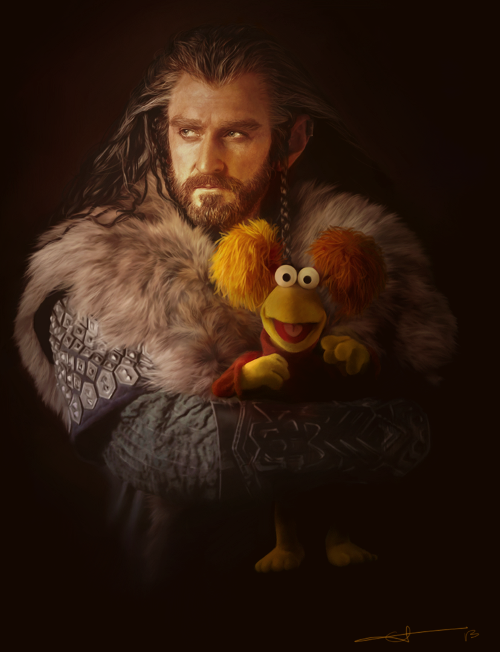 In the second, the friendly Fraggle Wembley gets cuddly with a dwarf named Dwalin.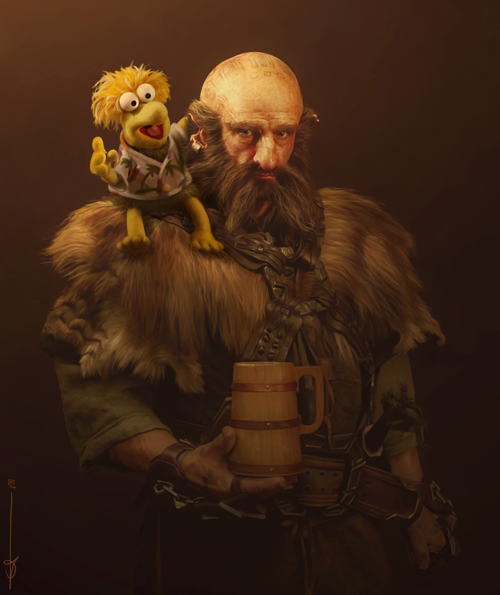 Though Tolkien's dwarves may seem intimidating, they're quite friendly once you get past their brusque exteriors. And don't let their cheery faces fool you: Fraggles are serious business. A designated class of Muppet, Fraggles are actually quite similar to the dwarves of Tolkien's Lord of the Rings universe in that they both inhabit a world full of culture clashes. Fraggle Rock is "a world with a relatively complex system of symbiotic relationships between different 'races' of creatures," according to the Muppet Wiki, while the dwarves of Middle Earth often face tense rivalry between elves, humans, and other races.
But fans of the two series have praised euclace's artwork in harmony.
DeviantArt featured the artwork on its Tumblr account (another glorious crossover of which we heartily approve) last week, to the tune of 2,676 notes and counting.
"Fraggles under the Lonely Mountain," gushed deviantArtist lily-fox. They can seek counsel from the Trash Heap, and mine side-by-side with the Doozers. It sounds like paradise to me."
"I just pictured Gobo and Bofur rocking out together with their guitar and flute and now I can't get this stupid grin off my face," echoed another.
To that we can only say: let the music play!
Photo via euclase/deviantArt