Rarely is it ever a good idea to jump onto your former employer's Twitter account to publicly lambast the company for which you used to work after being summarily fired from your post. But in the case of Jim Knight, a chef living in Oxfordshire, England, that's exactly what happened. And it appears as though everything's worked out for the best.
Knight was fired from his job at the Plough pub over the weekend after expressing an interest in spending more time this holiday with his family, which just welcomed a newborn daughter. 
Angered over his forced exit, Knight took to the pub's Twitter account, an account he claims he opened, and made a few private lamentations public. (The tweets have since been deleted.)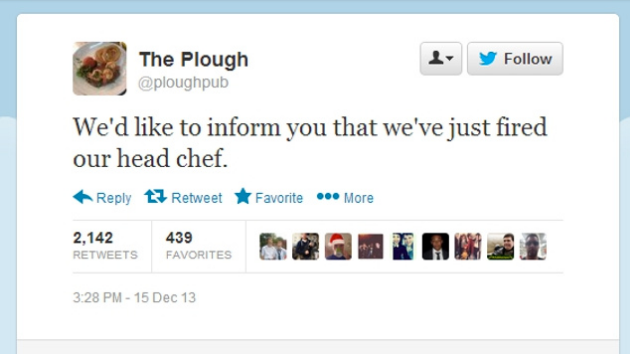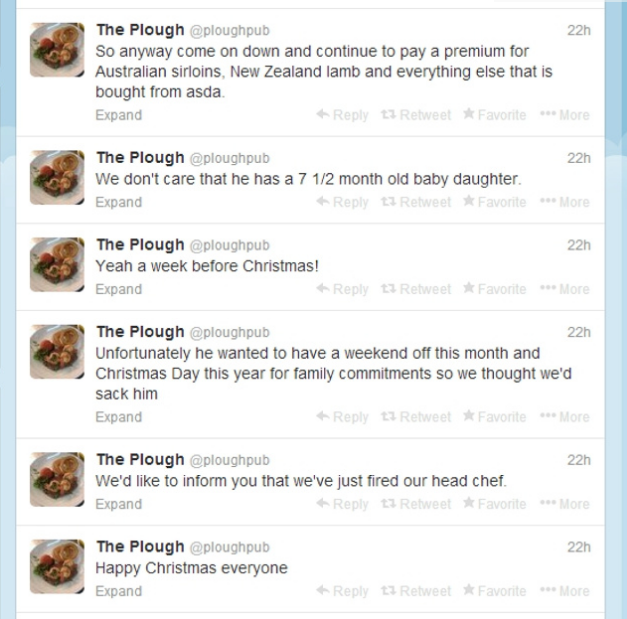 Knight went onto his personal account later to explain that he didn't hack the Plough's. Twelve hours later he came back to say that the "twitter storm" he went on earlier had earned him a "serious job offer" from another employer, evidently the Shepherd's Cro, another bar in nearby High Wycombe.
"I would like to point out that I don't know the password to @TheShepherdsCro twitter account," he wrote. "I wonder why?"
H/T Gawker | Photo via Plough Pub