Over the weekend, an anonymous editor defaced a Wikipedia page on the Washington Wizards 2012-2013 season by referring to Jason Collins as a "faggot."
Collins recently made headlines for becoming the first active athlete in a major sport to come out as gay. He was also member of the 2012-2013 Wizards team before becoming a free agent this summer.
On Sunday afternoon, an anonymous Wikipedia editor disparaged Collins' coming out by adding "Jason Collins was on this team. He just revealed he is a faggot!" to the page in question.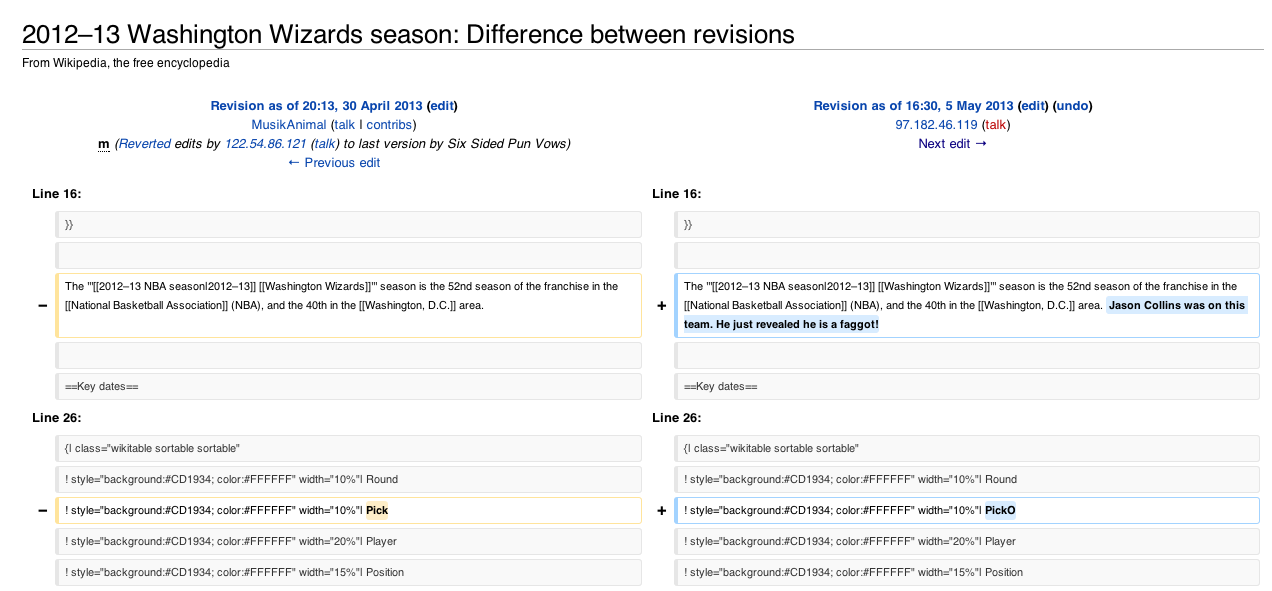 Photo via Wikipedia
The derogatory statement was viewable on Wikipedia for a whopping six hours before another anonymous user edited the sentence to read "He was the first active male professional athlete to come out as gay." As of this writing, that's the version of the statement that remains on Wikipedia, but you can still see the offensive edit in the page's edit history.
Wikipedia publishes the IP addresses of anonymous editors. A cursory search on IP Tracker reveals that the disparager used a Verizon Wireless device,  but doesn't give any more clues about the poster's identity.  
It's unclear what motivated this user to use such hateful language—Immaturity? Bigotry? "The Lulz?"—but, in the words of the great Charles Barkley, this was "a turrible idea."
Photo via Jason Collins/Twitter