Grinnell College shooting guard Jack Taylor scored 138 points in a basketball game Tuesday night, shattering the NCAA record in the process.
So how did the sharp-shooting sophomore celebrate his distinction? Not by partying or taking a trip to Disney World. No, none of that went down.
Instead, Taylor celebrated by creating a Twitter account.

Opened shortly after midnight, Taylor's account now boasts more than 650 followers—good numbers considering the Division III hoopster has only sent five tweets.
Aside from the introductory tweet, Taylor has also sent messages to Oklahoma City Thunder forward Kevin Durant, ESPN basketball analyst Dick Vitale (twice!), and Mark Driscoll, a pastor in Seattle, Wa., who Taylor wrote taught him about Jesus and "continue[s] to help me grow as a man."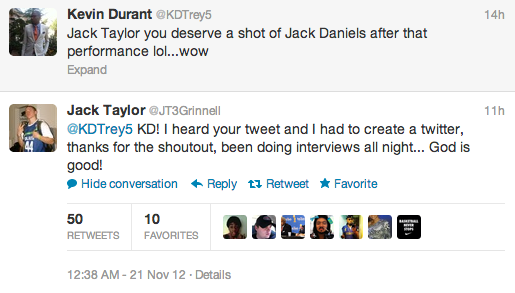 Taylor only follows six people at the moment—Durant, Vitale, Driscoll, "aspiring YOLO" Hayes Gardner, Minnesota State Maverick Jimmy Whitehead Jr., and Twitter's verified account handle—but that number could go up as Taylor begins to realize that Twitter is an actual thing that has some momentum and not just a passing fad on the Internet's endless highway.
For now, the Iowa native is likely transfixed on watching highlights of his 138 point performance, which can be seen in truncated form right here.
Photo via Voluplicious/Pinterest