Here at the Daily Dot, we swap GIF images with each other every morning. Now we're looping you in. In the Morning GIF, we feature a popular—or just plain cool—GIF we found on Reddit, Tumblr, or elsewhere on the Internet.
In the world of upvote GIFs—animations which dramatize the act of giving users points on Reddit—Everett Gunther's Matrix-inspired masterpieces and Jake Olimb's hand-illustrated epics are regarded as some of the best ever created.
Now Gunter (who goes by prannisment on Reddit) is cementing his spot atop the GIF throne with what might be his most explosive animation yet.
Redditor rupay has called the following Inception GIF "the most amazing" he or she has ever seen. Gunter's GIF is taken from the scene where Leonardo DiCaprio and Ellen Page are sitting outside a cafe enjoying some coffee.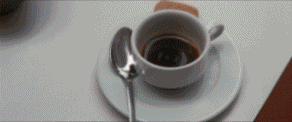 Sadly, unlike Gunther's Matrix GIFs, his Inception GIF is likely just a one-off.
"The Matrix turned out to be surprisingly perfect for GIF opportunities, which is why I stuck to it for six gifs," Gunther commented a month ago. "This scene in Inception just stuck out to me, so I made this gif on a whim. I don't know of many other scenes that would offer much of the same qualities needed."