This article contains spoilers for Palm Springs.
Hulu's Palm Springs is a touching, chaotic romantic comedy stuck in a time loop, and like so many films released during the pandemic, it's being read very closely for its parallels to our current status of wondering what day it is and also what time even means.
The film, which stars Andy Samberg and Cristin Milioti, reportedly broke an opening-weekend record for Hulu, after the platform and Neon purchased it for an astounding $17.5 million. It also drove a lot of discussion online; time loop or travel movies invite close readings, and viewers attempted to unravel theories about other characters, its ending, and where (when?) exactly its two protagonists end up.
In the film, Nyles (Samberg) attends a wedding in Palm Springs and meets Sarah (Milioti). But they've met before. Thousands of times. Nyles is stuck in a time loop, and has attended the same cursed wedding over and over. After a night of drinking, and a sneak attack by Nyles' nemesis Roy (J.K. Simmons), who's also stuck in the loop, Sarah follows Nyles into a otherworldly cave and also ends up in the loop. While Nyles has resigned himself to living with it, Sarah is determined to find a way out. She goes down a rabbit hole of videos about quantum physics, and interviews experts about potential outcomes and the "Cauchy horizon," part of a black hole where time travel is allegedly possible.
The nana theory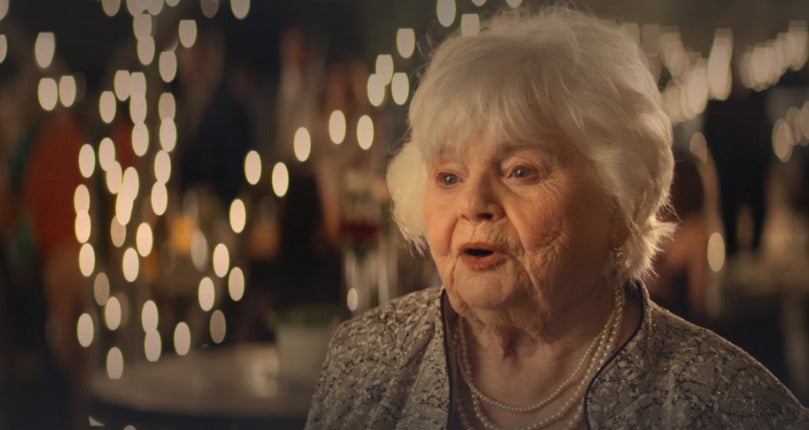 June Squibb plays Sarah's "nana," and early in the film she comments to Nyles and Sarah that she's been to "more weddings in my life than you can imagine." Later, after Sarah commits to blowing herself up in the cave to escape the loop, nana tells her "I suppose now that you'll be going soon. Good luck."
A Reddit theory posits that she's a "future version" of Sarah: "What if the explosion sent different versions of Nyles and Sarah across the time stream? One version of Sarah was sent back to the 1950's or 60's." Sarah and nana have different colored eyes, so it's likely not future her, unless genetics also change. But it is likely there are multiple nanas on multiple timelines, given the film's ending and mid-credit sequence. Nyles also tells Spuds (Brian Duffy), the gun-loving guy in the desert, that 30 years ago he had sex with a woman named Tracy and that he's his son. Is everyone in a loop?
The scientist Sarah chats with in one scene is physicist Clifford Johnson, who advised on the film. He told Slate that viewers shouldn't read too deep into the physics of Sarah's experiment—it's still a rom-com, and needs a somewhat happy ending. But he suggests that, at least in the Palm Springs universe, "this loop has been there since the beginning of the universe and people have been finding their way into it. Which means it could involve things that are ancient, including dinosaurs." Milioti was apparently doing her own research, too: She told Vulture she had a folder of black hole info titled "Cauchy You Stay."
---
The ending (and the dinosaurs)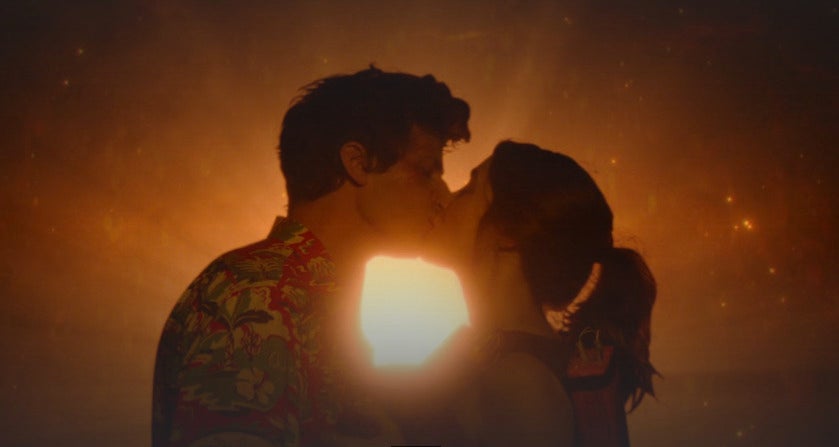 When Nyles and Sarah take mushrooms in the desert, they see dinosaurs in the distance. When they blow themselves up and land back in the pool on November 10, the day after the wedding, you can see the same dinosaurs in the distance. They seem to have escaped the loop, but also might be in some parallel reality. Screenwriter Andy Siara told Decider that Nyles had been in the loop for more than 40 years; that doesn't account for prehistoric creatures, but Johnson's theory does. Siara, a Jurassic Park fan, suggested it was more of an aesthetic choice. In another interview, he and director Max Barbakow assign significance to November 9: The day of the 2016 election.
---
'Shukran'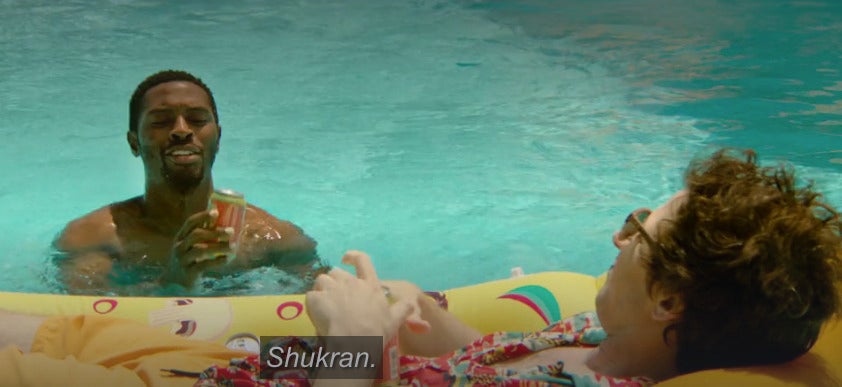 Nana says "shukran" to Nyles, as does Jerry (Tongayi Chirisa), a groomsman. It's an Arabic word for "thank you." The beer Nyles chugs is called Akupara, a reference to Hinduism and a "mythical tortoise that upholds the world" but it also means "boundless" in Sanskrit. There are theories that Jerry is also looping—maybe everyone is—but these are probably more philosophical references to the film's bigger themes of karma and selflessness.
---
The Royverse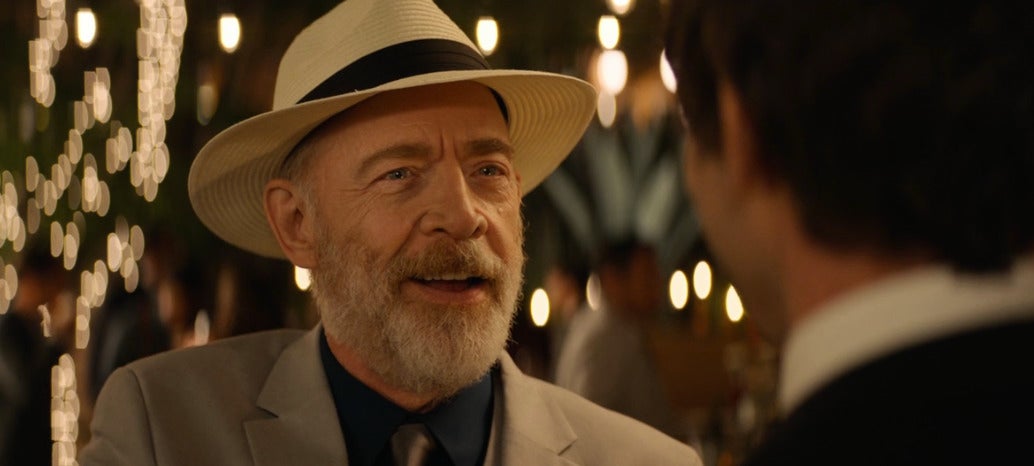 The mid-credits sequence shows Roy approach Nyles at the wedding and inquire about Sarah's plan. Nyles doesn't recognize him, which implies that he escaped and opens up a potential sequel involving multiple J.K. Simmons roaming around Southern California. We need this.
READ MORE: