In early November, it was reported that cable operators lost 687,000 subscribers in the last quarter. Industry experts claimed the TV industry suffered its "worst 12-month stretch ever."
The reason? People are cutting their cable TV cords and switching over to streaming content through services like Netflix, Hulu Plus, Amazon Prime, and more. They're consuming more media on mobile through innovative new apps like Vidora, and streaming media from their mobile devices to their TV through devices like Google Chromecast.
If the rest of them are anything like me, they also got tired of paying over $170 a month for cable TV with hundreds of channels they don't watch to go along with overpriced Internet.
If you're shopping for a TV and Internet package in New York City, and if you want to customize, then these are basically your options with Time Warner Cable: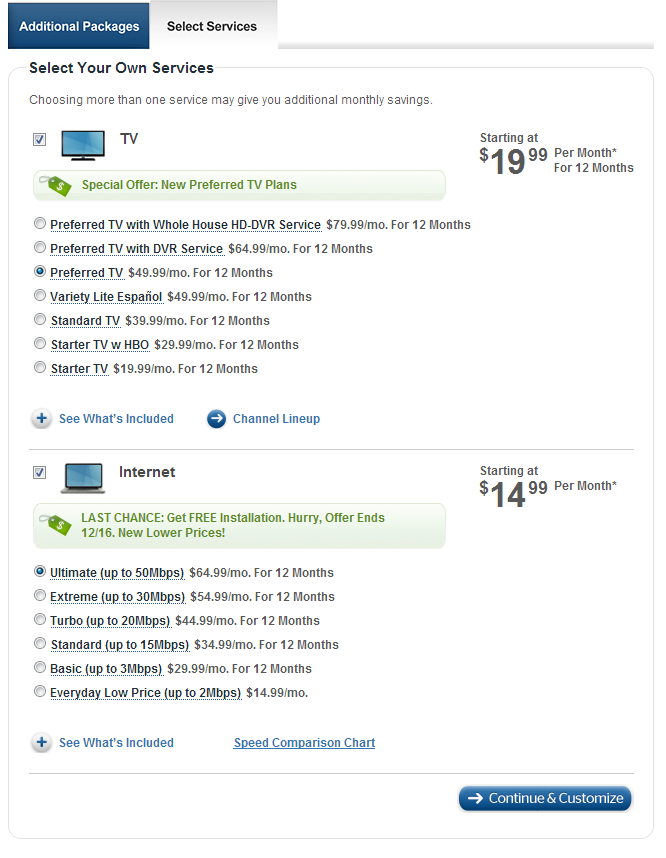 If you want a halfway decent combination, your final package might look something like this.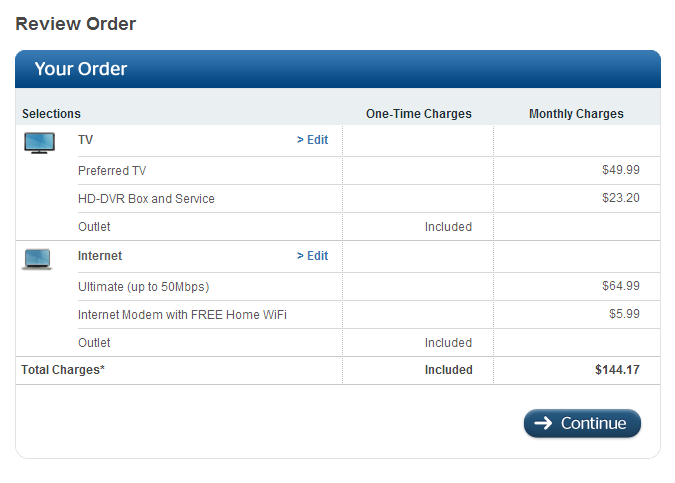 Too expensive? Then you could get something like the TWC Basic Package.
Yes, that says "Up to 3mbps," not 30mbps. That speed is unacceptably slow for most Internet users in today's HD-streaming culture. And what is "FREE Home WiFi" exactly?
Vidora CEO Alex Holub told me the main reason why we're likely not to see providers offer more customizable TV channel packages outside of HBO, Showtime, and the like is because when the cable companies talk to the networks, they have to take a whole host of channels contractually. That makes it challenging for them to un-bundle channels.
I didn't want those channels. I didn't want to pay for them and from a consumer point of view, I could care less about the reasons why Time Warner Cable can't offer me a bundle that works for me. Dish and DirectTV were out of the picture because they don't offer broadband, even though Holub says Dish and DirectTV are being "far more aggressive in the market in regards to the products they're rolling out."
I finally got fed up last June and made the decision to at cancel my cable TV subscription with TWC and just spring for their "Ultimate" Internet package with speeds of 50mbps down and 20mbps up. It's not like I had much choice; TWC's the only provider that will service my home address.
I kept the "Ultimate" Internet package at a cost of $64 per month—which actually ends up being $74 after taxes and a modem tax—and subscribed to Hulu Plus and Netflix, both at $7.99 per month. That put me at a total cost of $89 dollars per month, $81 less than what I was paying for the TV and Internet package.
I'm hardly the only one. I spoke with three sources, including freelance writer Annetta Ribken, all of whom saved somewhere between $70 and $100 a month but letting go of cable.
I also purchased something I vaguely remembered hearing about as a child in the '80s, a TV antenna. This device could supposedly reach out into the thin air and capture broadcast TV signals and show them on my TV, at no monthly cost! Some in HD!
I ended up buying a RCA Flat Digital Amplified Antenna for $40 and positioning it just so on my TV stand. Then like black magic, CBS, NBC, ABC, and other local stations appeared with crystal clarity on my TV. While TWC customers were raging over the CBS blackout (TWC is said to have lost 100,000 to 150,000 subscribers because of it), I was munching on microwave popcorn and watching CBS in HD… for free.
I set up Hulu Plus and Netflix through my Samsung SmartTV and downloaded a few other apps, like Spotify and BBC News. If I didn't have a smart TV I could have gone with a device like Roku which costs $49-$99, an app-ready DVD player, an app like Vidora on my tablet, or next a generation game console like the PS4 or Xbox One.
Sports can be tricky, but I get the big games on the main broadcast channels. If I want to go hardcore I could always sign up for sport specific packages like MLB.TV,  NBA League Pass, and NFL Game Rewind. And if  a show I'm into isn't on Hulu or Netflix, I can buy them on iTunes and stream it to my TV. I stream episodes of House Hunters beamed from my iPhone to the YouTube app, which keeps the wife happy.
I've also discovered all kinds of programs I never would have heard of or seen if I didn't cut the cord. Ever heard of the British comedy Peep Show? It's fantastic and I tore through eight seasons in a couple weeks. I'd never seen the new Battlestar Galactica (2004) but decided to give it a go since I heard great things. Three weeks later, I'd blasted through all of it. I'm also watching the new FOX show Almost Human on Hulu the day after it airs every week along with the Colbert Report and a few other favorites.
Factor in original series like House of Cards and Orange Is the New Black and I'm also getting solid content not available on cable TV.
Right now, nearly everybody has the option of building an experience like mine and the more that do will help speed up the process of changing the media consumption landscape all the quicker. All you have to do is cut that cable TV cord. I did, and after six months of being cable TV free, I haven't looked back.
Photo by Dan Fulano/Flickr