Rockstar, the producer of the fastest-selling video game of all time, Grand Theft Auto V, has implemented widespread bannings of players who acquired in-game money through cheating.
The bannings stunned the GTA V community after a Rockstar administrator confirmed the crackdown Tuesday.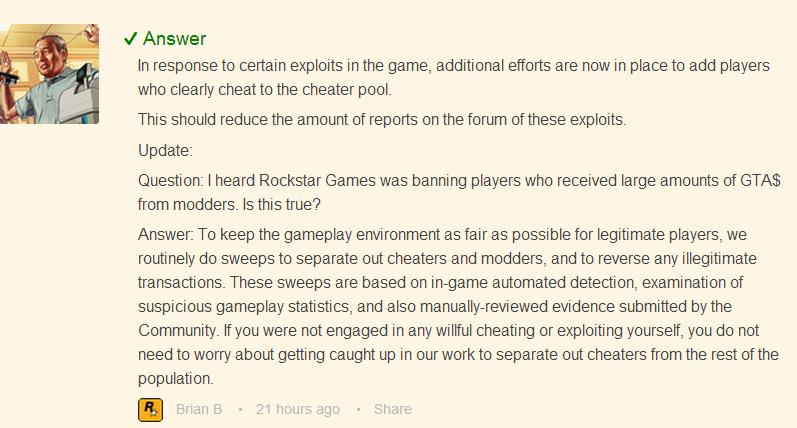 While the reasons for the bans cover a broad area of cheating, it's those related to GTA V's online bounty system that have gamers troubled.
In GTA V's multiplayer online service, gamers can "offer [in-game] cash rewards to other players for the assassination of rivals," IGN states. Once the target is killed, the bounty is deducted from a player's account. This is where the problem arises.
Through illegal modifications made to the game, players have been able to amass millions, and sometime billions, of dollars of in-game money. This money is then put up as a bounty without the assassin knowing it was acquired through cheating. This, according to gamers on Reddit's r/grandtheftautov forum, has resulted in unfair bannings.
"This is utter lunacy on [Rockstar's] part," rustyrebar commented. "It seems to be mostly people who somehow killed a bounty worth shit tons of cash and when they saw how much they got they shared it with others. They did not set the high bounty, that was some hacker who has not been banned, and who [Rockstar] probably has no idea how to find."
Redditor AestheticalGains provided the following screengrab of the message he received from [Rockstar] after he was banned. 
Banned players are sent to a "cheaters pool," a separate online world for people who have broken GTA V's rules. In this world you can only play with other banned players and you have no in-game money. And according to this YouTube video, your time in the cheaters pool can last up to four months.
So why is Rockstar cracking down on users amassing Warren Buffett-like mounds of in-game cash? Because those fake millions could cost Rockstar real money.
For every $1 million worth of in-game dollars generated through cheating, Rockstar loses about $17, according to figures provided by Eurogamer. With some players claiming to have received a billion dollars of GTA V currency for one bounty, cheating could be big business if Rockstar ever implements a downloadable content (DLC) system. 
But considering Rockstar raked in $1 billion in sales in GTA V's first week, some gamers don't feel bad at all.
"With such a terribly designed game economy, it's no wonder why so many people have turned to glitches/hacking and are so adamant at finding new ones," idsuge commented. 
"Telling someone they cannot do something is going to make them try their hardest to prove you wrong. That's what is happening now. People did not play the game the way [Rockstar] wanted it to (i.e. jobs and supplementing with cash cards) and [Rockstar] is just trying to force it now. They are only harming those who attempt to play the game legitimately and it's frankly tiring."
Photo via media.gtanet.com