Picture the scene: You're behind the wheel of your car. You have seen nothing but interstate highway through your windshield for what seems like hours, possibly days. The trip feels like it has no end.
Suddenly, you look up and, through the trees, spot a giant catsup bottle.
If you're traveling through Collinsville, Ill., this sight isn't a mirage. (If you're driving anywhere else, it's in your best interest to pull over for the night.)
When the interstate highway system connected all corners of the country during the 1950s, businesses, towns, and other entities showcased their presence to travelers by foregoing boring, box-shaped structures. The drone highways and identical streets of America became seasoned with everything from giant condiment bottles and evil-looking clown signage to even dinosaurs. 
While some of these relics were lost to development and the elements over the years, many more still stand as shrines to America's golden age of the automobile.
Thanks to Google's Street View feature, you no longer need to waste precious time and gasoline to visit these monoliths as they were meant to be seen. (Click the city links below for Street View closeups!) 
Come along with the Daily Dot on a virtual tour of some of these unique landmarks. Yes, you can have shotgun. 
1) Evil Clown of Middletown
Street View: Middletown, New Jersey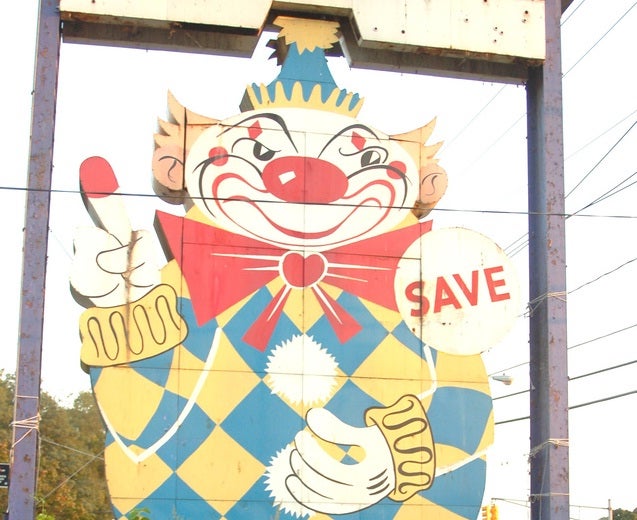 Photo via heck, j g/Flickr
Coulrophobes beware! If you're driving on Route 35 through the suburban community of Middletown in northern New Jersey, you may want to avert your eyes. 
The "Evil Clown of Middletown" is a large sign built in 1956 to advertise Joseph Azzolina's grocery store, Food Circus. Apparently, Azzolina felt that the store's name itself wasn't enough of a detriment; he had to pair it with the most frightening clown on the Eastern Seaboard.
While Food Circus is long gone, the sign still remains, terrifying drivers. Now a local landmark, it has acted as an advertiser for the subsequent businesses that have filled the property. 
The Evil Clown of Middletown also has some fame attached to it. Director Kevin Smith, who is from the region, has featured it in his "Roadside Attractions" segment on The Tonight Show With Jay Leno and also in the opening sequence of Clerks II. Additionally, it has been featured in the pages of Weird NJ magazine and in the independent film Middletown.
2) Big Chicken
Street View: Marietta, Georgia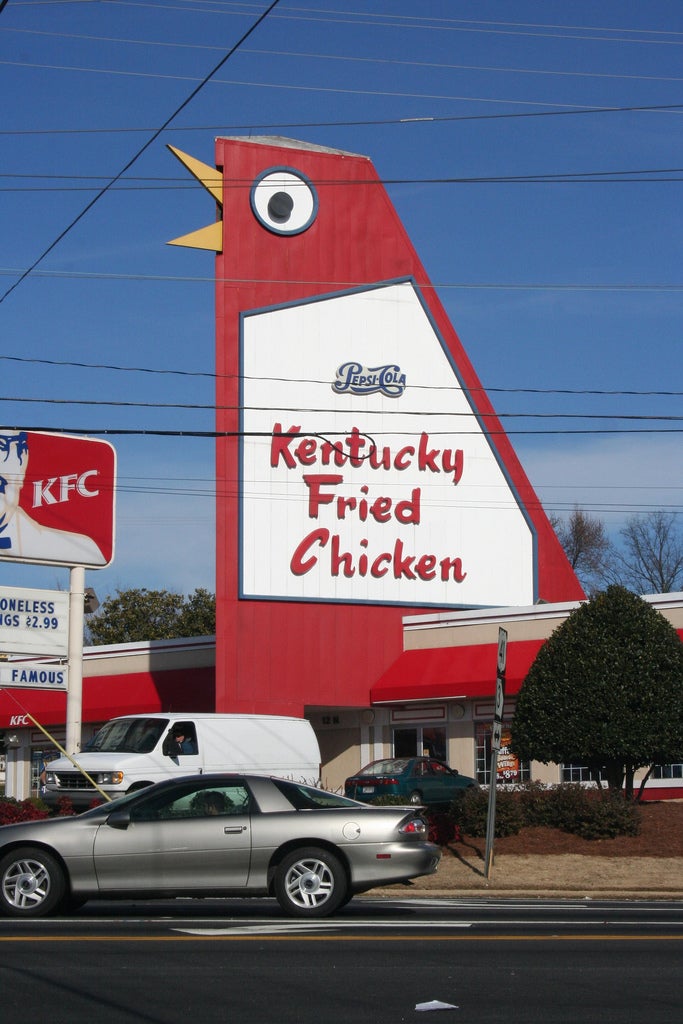 1
It makes perfect sense that the country's most notable Kentucky Fried Chicken restaurant is in … er, Georgia.
Towering 56 feet over the intersection of Cobb Parkway and Roswell Road, the Big Chicken was constructed in 1956 as a unique form of advertising for the building's original occupant, Johnny Reb's Chick, Chuck, and Shake. The beady eyes and perfectly symmetrical beak of the Big Chicken quickly became a landmark in Marietta, which does not have very many other buildings shaped like nuclear-enhanced farm animals.
The Big Chicken has received fame through everything from local area bands to even Sim City: The Card Game.
3) Lucy the Elephant
Street View: Margate, New Jersey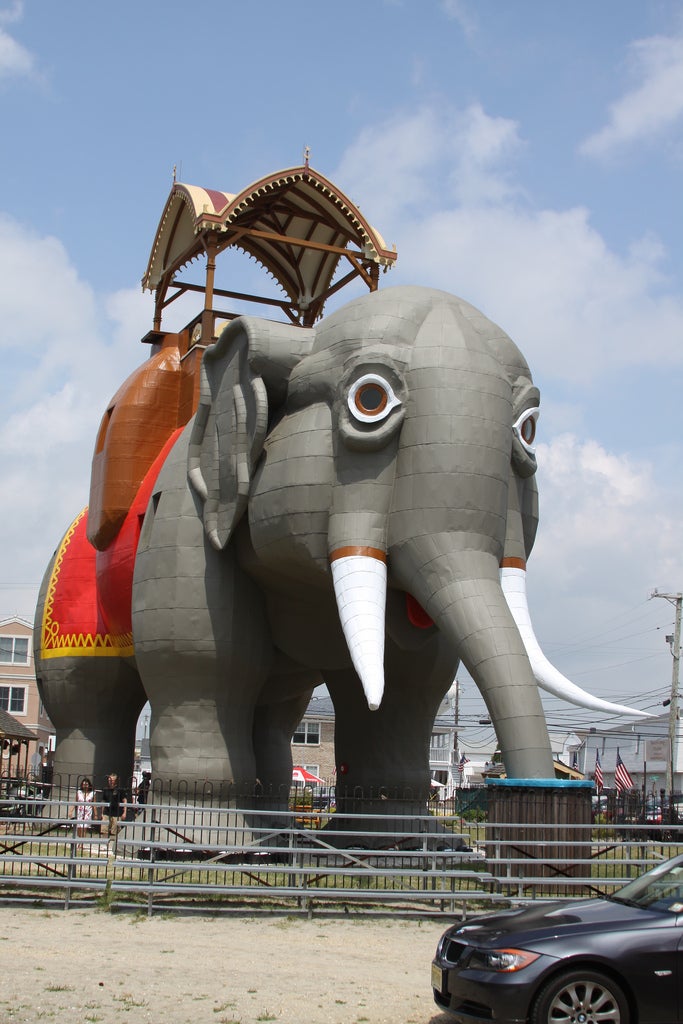 Photo via Jim, the Photographer/Flickr
Imagine that you work on a fishing boat that scours the Atlantic Ocean just off of the New Jersey coast for, I don't know, chemically-enhanced fish with 18 heads. You have just finished a grueling, stinky day of hauling future seafood aboard your vessel and all you want to do is dock for the night. The fog is thick. As you edge closer to shore, you finally spot a beam of light.
And it's coming from a giant elephant.
Lucy the Elephant has been a staple of Margate City, a coastal community just south of Atlantic City, since 1881. Sister elephant buildings in Coney Island, New York and Cape May, New Jersey, erected around the same time, have since been demolished.
Before becoming the historic landmark and tourist trap that it is today, the six-story elephant formerly housed an array of businesses, including a hotel and tavern.
Yes, a TAVERN. Imagine stumbling out of the place, drunk out of your mind, and spotting a towering ELEPHANT overlooking the beach.
Also, John Green's friend got married there:
4) Peachoid water tower
Street View: Gaffney, South Carolina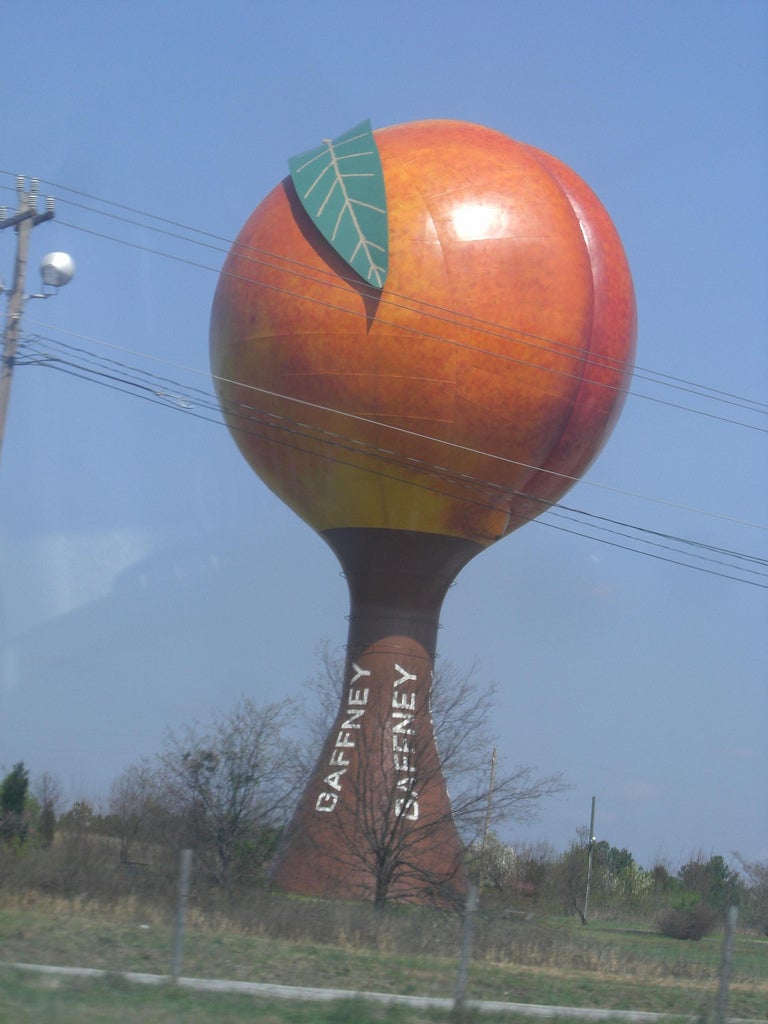 Photo via justgrimes/Flickr
Georgia may be the country's main peach producer, but it will never reach the heights—and thus, the officiality—of Gaffney, South Carolina and its giant-peach-capped tower.
The tower, named "Peachoid," was built in 1981 and is filled with, as its name implies, water. It was constructed to acknowledge South Carolina's temporary edge on peach production in the United States, beating out Georgia. The state's top spot in the peach race was short-lived, however, as Georgia reacted by producing more peaches as opposed to fruit-shaped water towers.
The 150-foot-tall Peachoid is located alongside Interstate 85.
5) Big Shoe Repair
Street View: Bakersfield, Calfornia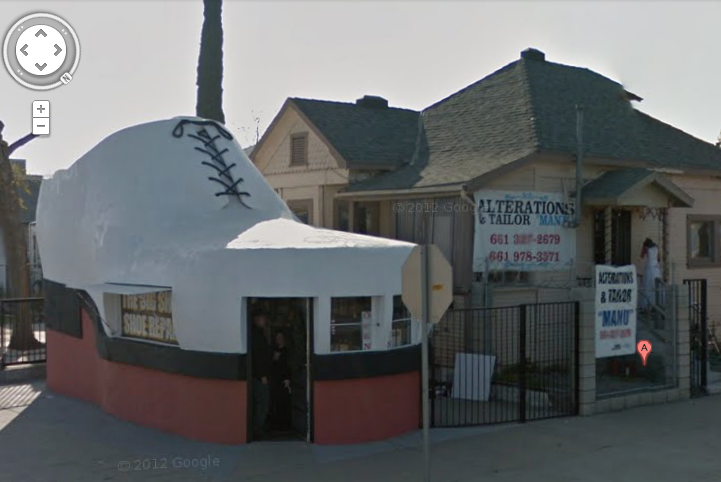 Chester Avenue in Bakersfield is a major street in the southern California city. As such, it is home to sprawling shopping centers, loudly-colored fast food joints, and a huge shoe.
The "Big Shoe Repair" building was erected in 1947 and resembles the "platform shoe" style of the time, laces and all. While the business shuttered for a time, it was reopened in 2003.
When conditions are right, a giant, 900-foot-tall Pee-Wee Herman will come along, slip on the shoe and dance to the song "Tequila."  
6) World's Largest Catsup Bottle
Street View: Collinsville, Illinois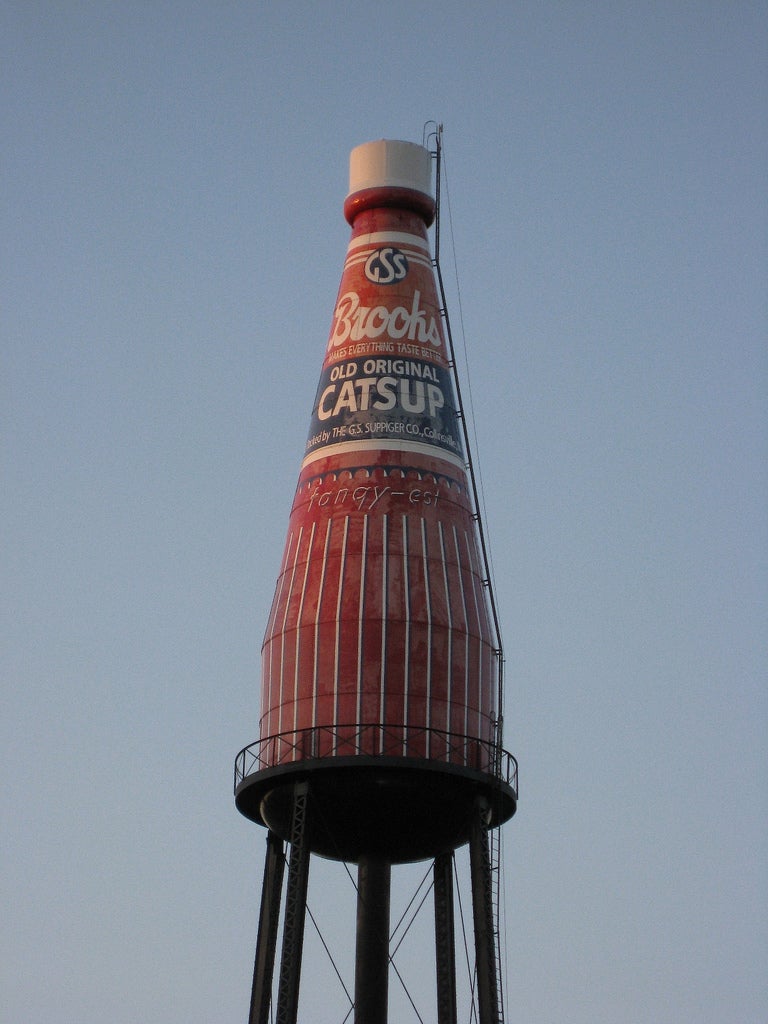 Photo via soupstance/Flickr
In Illinois, almost everything seems to be oversized. Beloved state son and 16th U.S. President Abraham Lincoln was over six feet tall, Chicago's Willis Tower is the country's tallest building, and the small town of Collinsville boasts the largest catsup bottle in the world.
Yes, the entire world. There is an apparent "tallest catsup bottle" race taking place out there, with the current Number 2 spot being occupied by an economy-sized bottle of the condiment at an undisclosed Costco location.
The bottle, which popped up in 1949 along Morrison Avenue, acted as the water tower for the Brooks Catsup Company. The company relocated to Indiana in the 1970s, seemingly forgetting their most notable possession.
"We've got the employees, the machines, and the tomatoes," company executives said as they made their way east. "But I swear we forgot something. Wait! We left behind the 170-foot catsup bottle! Dammit!"
The bottle can reportedly hold over 600,000 gallons of catsup, equal to roughly half the amount most people squirt onto their plate while eating steak fries.
7) The Mud Creek Hogan Gift Shop
Street View: Mancos, Colorado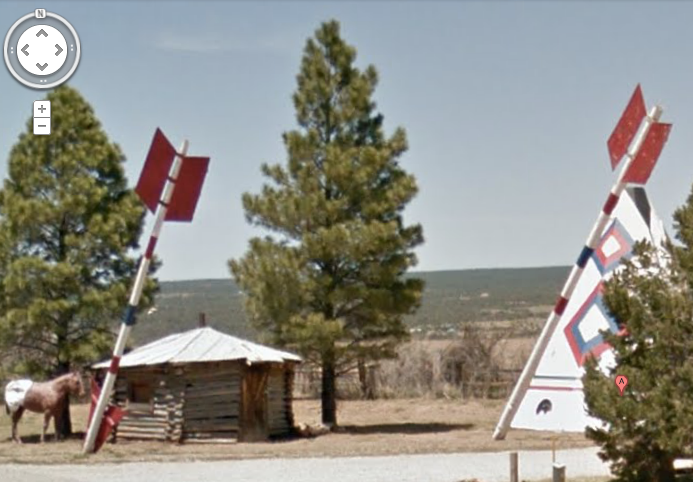 Early—and seemingly giant—members of ancient Native American tribes apparently had it out for the Mud Creek Hogan gift shop and trading post in Mancos, Colorado.
The property's exterior is littered with several massive arrows. The bows are still at large.
In reality, the arrows are actually telephone poles. The poles, which surround a series of teepees, are positioned at a 45-degree angle to give the viewer a sense of a massive tribal arrow attack.
WHY any business would WANT to look like it had been targeted by nuclear Native Americans is just one of the great mysteries of Mancos. Another great Mancos mystery is "Where the hell is that? I thought Denver and Aspen were the only civilized spots in Colorado."
8) Bob's Java Jive
Street View: Tacoma, Washington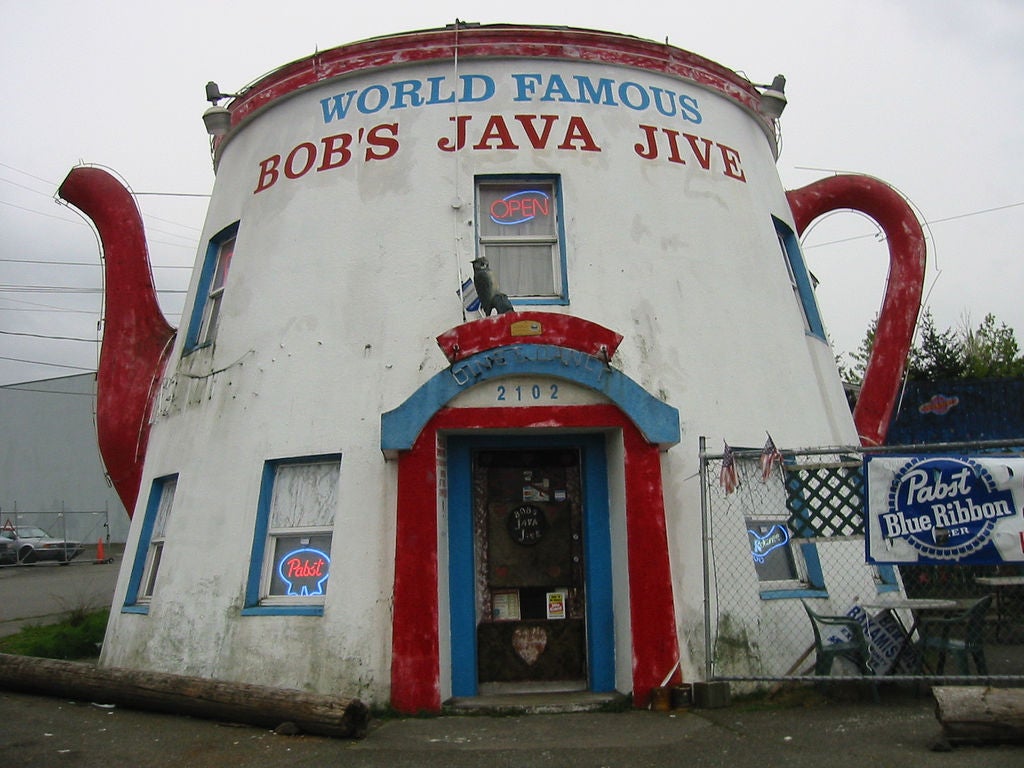 Photo via David Fisher/Flickr
Washington state is of course known for its coffee. It is the birthplace of Starbucks, which brought barely affordable, blasè blends to the whole world, a world that the company felt was far better without independent coffeehouses.
Bob's Java Jive in Tacoma may not have the success of its overpriced, multinational competitor, but it certainly came up with a far better branding than a mermaid for its coffee business: a coffee pot.
The building went up in 1927 as the cleverly named Coffee Pot Restaurant. It was purchased in 1955 by Bob Radonich, who renamed it in honor of one of the state's most beloved residents: himself.
Under Radonich's stewardship, the business gradually drifted from its humble beginnings as a coffee station, becoming everything from a music venue to a speakeasy to even a go-go bar. That's right: once upon a time, the U.S. had residents who made a living by stripping off their clothes inside of a giant coffee pot.
Today, 11 years past Radonich's death, his Java Jive lives on as a bar. We hear it's a pretty hot place inside.
9) Giant Justins
Street View: San Antonio, Texas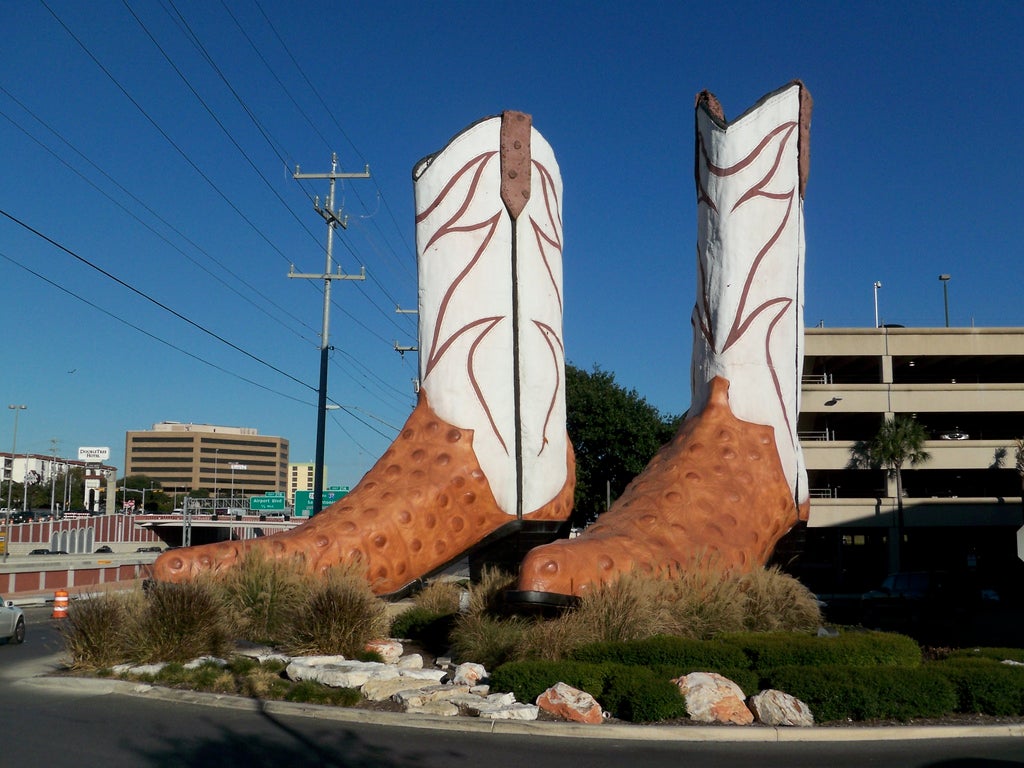 Photo via T.C./Flickr
The "Giant Justins" attraction is a pair of massive—and hideously ugly—cowboy boots. Built in the late 1970s, a time during which America's fashion moguls were all blind, the boots' first home was a city renowned for its cowboy population: Washington, D.C.
Today, the boots are part of the North Star Mall property in San Antonio, situated outside of a unit of Saks Fifth Avenue. Saks, of course, is headquartered in New York City, where women's fashions currently feature boots that are just as tall. 
10) Cabazon Dinosaurs
Street View: Cabazon, California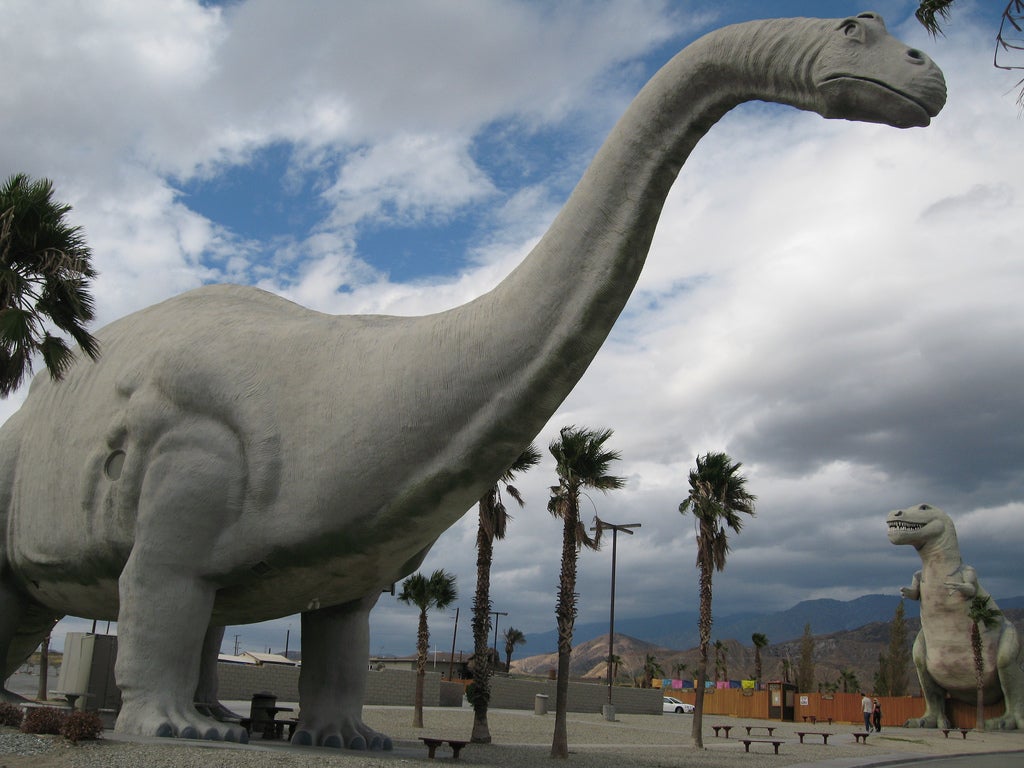 Photo via catchpenny/Flickr
If you are traveling on Interstate 10 through the California desert, the sudden appearance of two stationary dinosaurs is not a mirage.
The Cabazon Dinosaurs are the brainchild of late sculptor Claude Bell, who constructed the beasts to attract attention to the Wheel Inn Cafe. Bell had never heard of billboards.
Dinny, an Apatosaurus, was completed in 1975; Mr. Rex, a Tyrannosaurus rex, was finished almost a decade later. Currently, Dinny's innards are home to, of all things, a museum and gift shop promoting creationism. 
The dinosaurs are perhaps best known for their appearance in 1985's Pee-Wee's Big Adventure. The site also appeared in music videos, TV spots, and the 1989 feature-length Nintendo commercial The Wizard.