There are many mythical creatures associated with Florida, but WTLV reporter David Williams might have inadvertently spotted one of the most elusive over the weekend.
Early Saturday morning, Williams was reporting live from the scene of a house fire for Good Morning Jacksonville, when a woman wearing a unicorn mask and tutu ran into view. If you listen closely, you can hear the ballerinacorn attempting to communicate with Williams in its native tongue. You might notice Williams doesn't bat an eyelash, because this is Florida. 
Since it was 6am on Saturday morning, it's hard to tell if the ballerinacorn was just waking up, or perhaps just going to sleep.
Here's the magic moment in GIF form: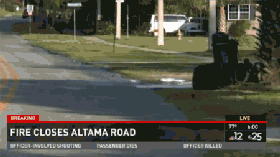 Photo by Rob Boudon/Flickr (CC BY 2.0)