The biggest trend I ever helped to invent is Finger-hashtagging. It's happening right now in so many levels that I feel left out. I have to remind myself daily that it's all thanks to me.
The crux of it is simple: Place four fingers crossed on each other in a 90-degree form to simulate a real-life hashtag. High up in the air.
Finger hashtags can be used as a substitute for saying the word "hashtag" when using hashtags out loud. You're supposed to do it instead of speaking it. It saves time and makes you leave your phone behind and concentrate on the person in front of you, since it requires two hands. Try it right now.
It all came back to haunt me when I saw this this message on my wall a few days back: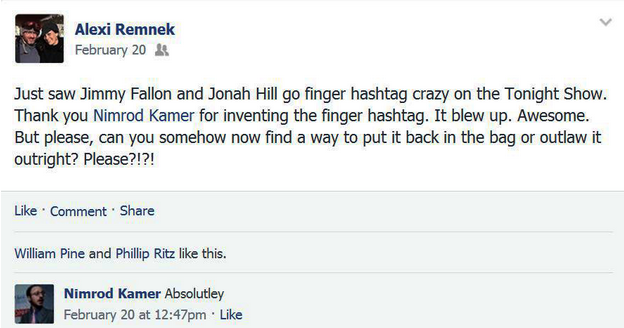 Then I found the full sketch on YouTube. They never credited me.
This isn't the first time Jimmy Fallon has latched onto fingerhashtags. Here he is last year with Justin Timberlake abusing the concept in a skit that went viral to the tune of 22 million views.
Let's go back in time. I remember Neil Patrick Harris trying hard to fingerhashtag but never quite making it. He couldn't connect his fingers on both hands. It was back in 2011 when he played Barney Stinson in How I Met Your Mother: Ancient times.
Nobody could really tell from the video that it would ever grow to become something. As far as I go, I can recall a party in the Hospital Club, London, where I fell in love with the actress Tamzin Merchant. You might recognize her from Pride & Prejudice (2005) and the TV series The Tudors. We spoke briefly, and then out of nowhere a photographer called William Pine caught us in the moment. Revelation.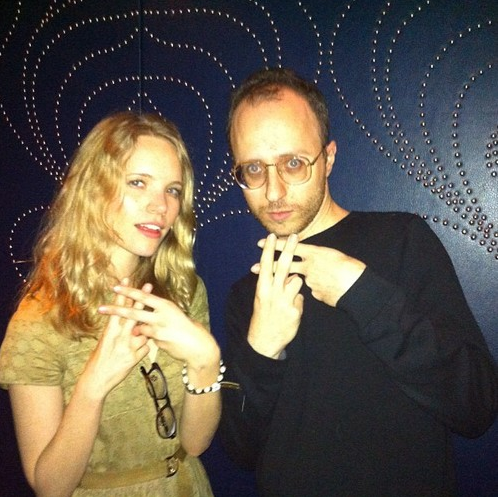 Then came October 2012, and I used this gesture to get the attention of people queuing outside Harrods in order to get their signed copy of the @Sartorialist book.
Following that, I wrote a Wired article, officially uncovering the trend. A few fashionistas were on it, doing it hard in London Fashion Week that year. I took their pictures.
Brace yourselves for the proliferation of the 'finger hashtag': https://t.co/u4eL1igQoj by @nnimrodd

— Wired UK (@WiredUK) March 6, 2013
Then the weirdest thing happened. The New York Observer ran a story on who exactly made the fad up, after a slight misunderstanding I had with supersleuth reporter Drew Grant.
Air quotes. Air hashtags? via @jennwhinnem: Don't Start Finger Hashtagging Quite Yet https://t.co/efKjcYzxVB

— Brad Lovett (@Brad_Lovett) April 2, 2013
And then came this moment on The Colbert Report.
And now Jimmy Fallon on The Tonight Show. When will I be properly credited for coining this? Should I sue?
Photo via Nimrod Kamer