Every day, the Daily Dot finds something that people on Facebook are sharing and, in turn, shares it with you—with a little explanation. Here's today's share.
Facebook users are taking a stand on body issues. They think.
"Just because you're skinny, doesn't mean you're HOT! Bring the curves back!" reads the caption of a photo that went from 8,000 to over 9,000 shares Thursday night.
Not to mention the rough wording (the original writer presumably meant "just because you're not skinny doesn't mean you're not hot"), users disagree strongly about the sizes matched with the models shown.
The photo shows three women of approximately the same height but increasing heaviness, and lists them respectively a size 4-8, 12, and 16. Of course, there's a lot of disagreement about whether those sizes seem accurate.
"My wife is a size 3-5. However, according to this picture, she is a size 12," wrote Mike Humphreys.
"I'm a ten n I look more like the woman all the way to the right," said Ashley Haug.
Lauren Orsini, a Daily Dot staff writer and self-proclaimed "experienced women's clothing wearer," calls the women sizes 2, 4, and 12.
The photo dates back at least to a 2008 story about men's preferences in the Australian paper The Age. Its caption respectively calls the women a size 8, 12 and 14, and references an online survey where men chose the heavier two women over the skinniest one.
The survey, reportedly conducted by men's magazine FHM, has been referenced countless times on message boards, but it's not archived online.
Besides, that survey reportedly only counted 6,000 responses. This photo has over 12,000 comments on Facebook, and they express a wide swath of opinions.
"They all look HOT!!!" wrote Darin Morrissey.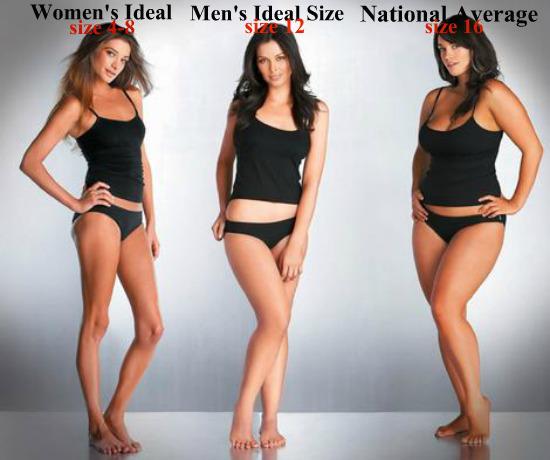 Photo from Facebook