Hey basketball fans, here's another piece of evidence you can add to your trash talk repertoire during March Madness. Facebook's data masters have crunched the numbers and mapped NCAA team allegiance across the United States. How does your team stack up?
Claiming that a map of all 68 teams "would be harmful to the colorblind," Facebook's Michael Bailey looked at the geographic origin of likes by conference. In most cases, the results are predictable. Allegiances are delineated by geographic and political ines.
In the Midwest, Michigan State dominates… Michigan (with a few minor strongholds in traitorous Ohio counties). In the East, Syracuse  dominates fandom from New York to Vermont to Connecticut. North Carolina State is very popular in South Carolina.
Here are the maps:
Midwest
East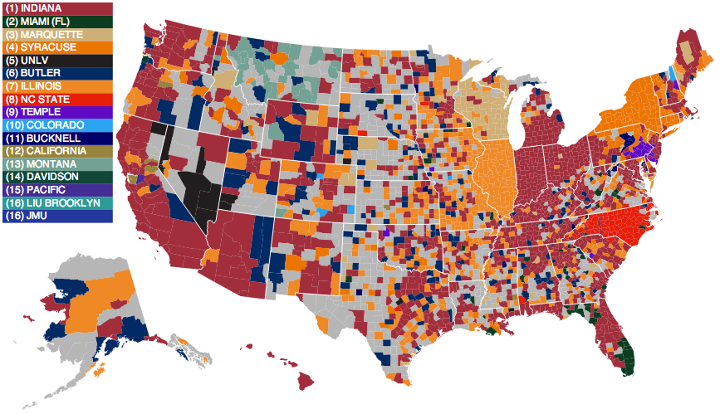 South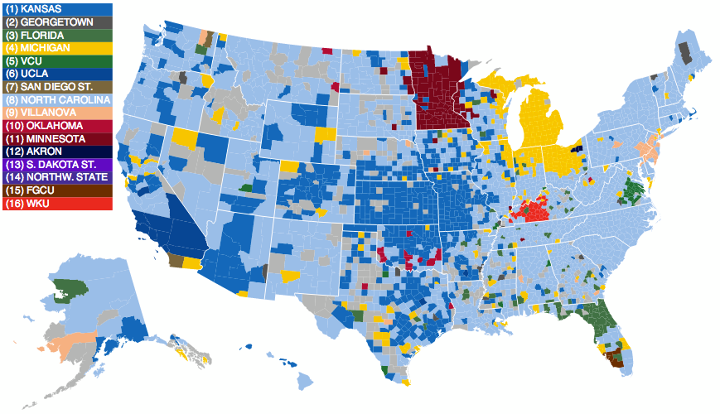 West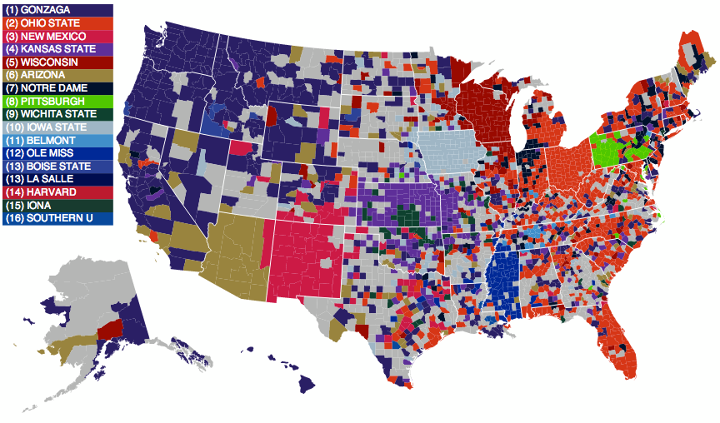 Things get more interesting when you look at teams with a national fan base. Louisville might be the number one seed in the country, but its fans have few strongholds outside of Kentucky. But number two Duke makes the Midwest conference map look like a Center for Disease Control model showing the advanced stages of a national viral outbreak. The whole country is infected with Duke blue. The same goes for the University of North Carolina in the South.
It would have been fun to look at the raw numbers behind the analysis, but for some reason Facebook didn't release those. So if you want to see how your team stacks up to your rivals, you'll have to check manually. It is, for instance, with mild smugness that I report the University of Louisville Cardinals basketball team has a paltry 45,000 fans, while the Syracuse Orange boasts 240,000.
To see more data maps, including fandom by conference and major rivalries, check out the full post at the Sports on Facebook page.
Photo by JMR_Photography/Flickr