We're still a long way off from February, also known as Ignorant White People Asking Why There Isn't a "White History Month" Month, but never fear: Facebook's "Heterosexuals Inspiring Pride" community page is all the persecution complex you need in your life right now.
"This is a heterosexual page," the page explains. "We (this page) does not hate you. We hate the hate that is being put forth by the LGBT community against people that disagree with them. If the LGBT community could have done their 'cause' without coming on line attacking people that did not agree with them, pages like this one would have never been created. … In truth, society is tired of all the heterophobic bigotry aimed at people that have morals and standards." Of course it is!
While the crackpot memes and macros are well worth the click—and raise the question of whether this is all, in fact, the work of a liberal troll—the real gems are the hundreds of comments from the aforementioned "heterophobes" committed to defacing the page.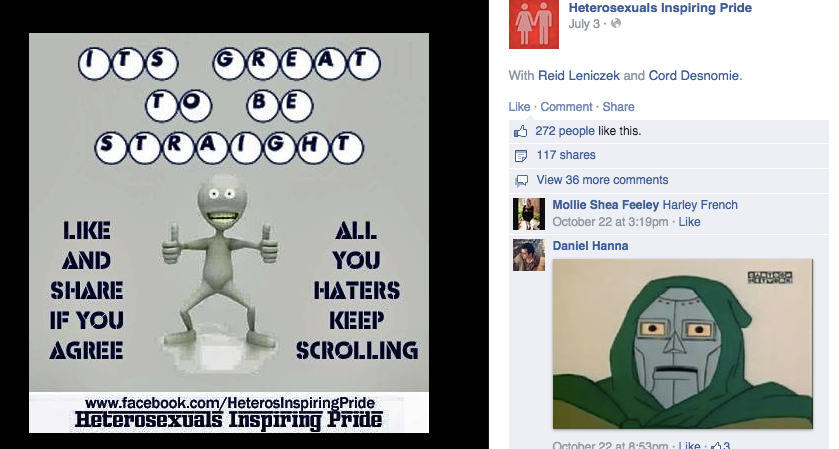 A word of caution: one could easily kill an entire workday exploring the busy world of repression and righteousness that is "Heterosexuals Inspiring Pride." Browse at your own risk.
So enjoy responsibly, and remember:
Photo by Guillame Paumier/Flickr (CC BY 2.0)