This article contains adult topics that may be NSFW.
Brenna Twohy really, really, really likes Harry Potter erotica. That's the basic gist of "Fantastic Breasts and Where to Find Them," a three-minute slam poem about the joys of female-authored erotic fanfiction that's been making the rounds on Tumblr.
In the poem, which was performed at the National Poetry Slam in Oakland, Calif., last week (the title is a play on Fantastic Beasts and Where to Find Them, J.K. Rowling's 2001 book about the magical creatures in the Harry Potter universe), the Portland-based poet waxes rhapsodic on her favorite type of pornography: Potterotica.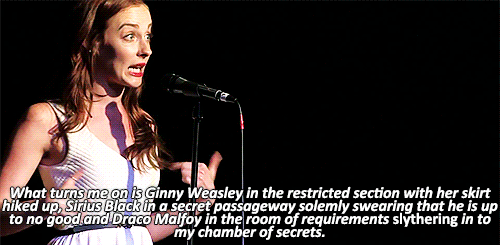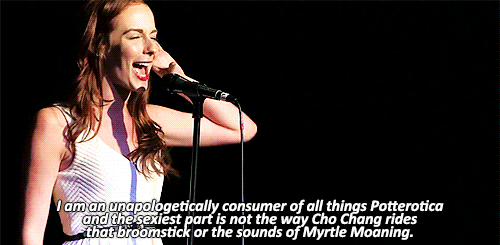 Twohy then goes on to explain why she enjoys Potterotica: Because it stands in stark contrast to the ostensibly violent, misogynistic, unrealistic fare proffered by websites like Pornhub and Redtube.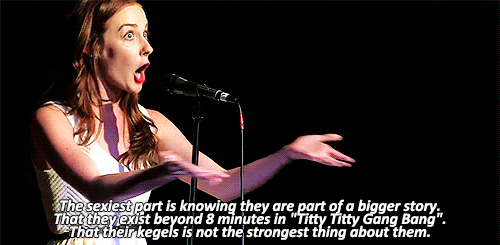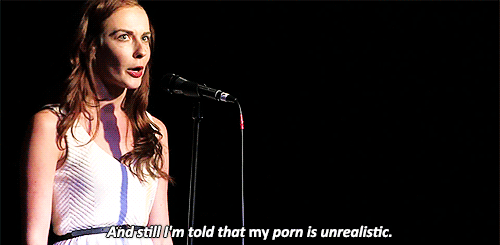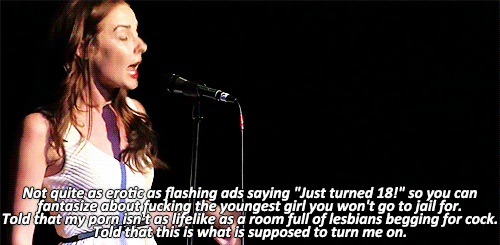 GIFs via IwatchforSasha/Tumblr
At the climax of the poem, Twohy compares the women in porn to animals in a slaughterhouse: "Don't you give me raw meat and tell me it is nourishment," she says to raucous applause. "I know a slaughterhouse when I see one."
"Fantastic Breasts" is currently going viral on Tumblr, and with good reason: Twohy's performance is spirited, to say the least, and the poem takes sharp aim at the idea that erotica can't be empowering, or that female-driven fanfiction, a genre that is widely derided by "serious" literary critics, has no inherent social value. When Twohy concludes her powerful defense of erotic fanfiction with, "My sex cannot be packaged. My sex is magic!", it's hard not to feel a surge of girl power and cheer along with her audience; Tina Belcher, the queen of "erotic friend fiction," would approve.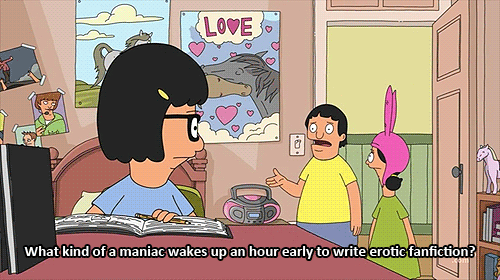 But there's something more than a bit troubling about Twohy's message here, particularly her assertion that porn is "raw meat," or that she "know[s] a slaughterhouse when [she] see[s] one." The claim that porn is inherently degrading to women, or neglectful of their needs and desires, is far from original; nor is it valid, as indicated by countless narratives from sex workers who find their work fulfilling and empowering.
The point of "Fantastic Breasts and Where to Find Them" is to celebrate all forms of female sexual desire, regardless of whether people find them socially acceptable or "realistic." But the fact is that many women (and I count myself among them) find the hardcore porn that Twohy finds so distasteful pretty damn hot. A recent study even determined that the majority of women who watch porn prefer more sexually aggressive material to the text-based erotica or female-friendly material that Twohy advocates for in her poem.
And let's not even talk about the fact that much of the allegedly progressive, sexually empowering fanfiction on the Internet is a helluva lot more misogynistic than Twohy's poem suggests. While my coworker Aja Romano, who covers fandom, is careful to emphasize that "fanfiction as an empowered space for female fantasy is hugely important to fandom writers," she notes that the reality is far more complex than Twohy's poem would suggest.
"I think [Fantastic Breasts] is going viral because it's a powerful defense of erotica as a force that removes the male gaze from porn," she says. "But in reality a lot of female-written erotica is just as 'degrading' in terms of kink and regressive gender roles as porn is."
Much like fanfiction, Internet porn is not a monolith; there's as much hardcore violent sex on Pornhub as there is erotic content that's focused on female pleasure, or balloon porn, or anything else, for that matter. There's something out there for everyone.
Clearly, reading about Cho Chang riding Draco Malfoy like a broomstick in the Room of Requirement is Twohy's cup of tea, and ladies getting their hair pulled doggy-style, or lesbians begging for cock on Pornhub, is not. But it is for plenty of other women. To argue that hardcore porn is "raw meat," and that women who enjoy it simply can't tell the difference between what's nourishment and what isn't, is just as problematic as the Potterotica critics that Twohy takes aim at in her poem.
"Fantastic Beasts and Where to Find Them" is a stirring celebration of a specific type of female sexual desire. But it's troubling that, in celebrating one type of erotica, Twohy feels compelled to condemn another.
H/T Aja Romano | Screengrab via Button Poetry/YouTube