As of today, I finally understand myself: I am a panda in a dress, top hat, and sneakers, drinking a margarita and playing the French horn. It feels good. It feels right. It feels like I've gotten in touch with the visual representation of my Internet persona, thanks to a bot called @emojidoll.
Tweet "me" at @emojidoll and the bot will spit out a randomized combination of symbols that, taken together, represent a humanoid figure. It may or may not have a hat—one of the four hats, including a hair bow, represented in the emoji alphabet. (It may have two hats—some of the heads come with hats already attached.) Its head will be an emoji person or animal head, or Santa Claus, or perhaps a poop with a face. 
There are six options for torsos—dress, shirts, blouse, kimono, bikini—and five for shoes, and the hands may be hands or hand-held objects. There are, according to the bot's info, more than 15.6 possible combinations.
Some are simple: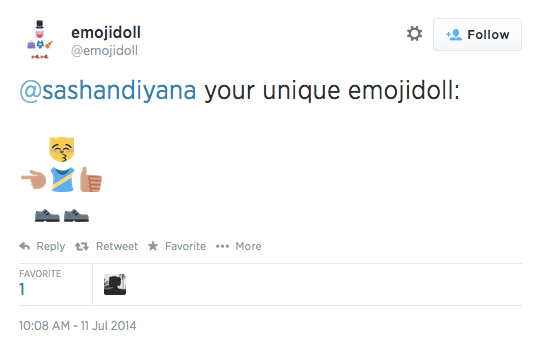 Some are more complex: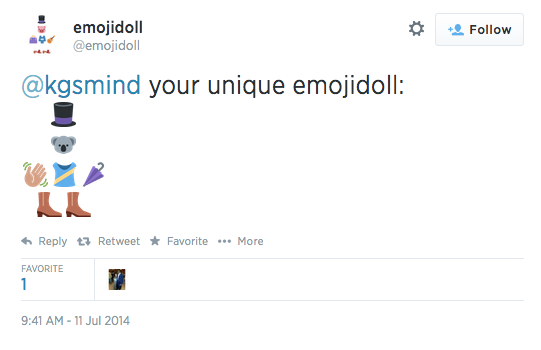 Some definitely suggest a story:
Some suggest something unsavory going on: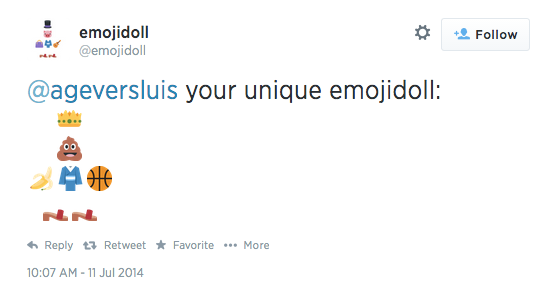 Once you get your emojidoll, it's hard not to identify with it. After all, you did tweet "me" (no other word will work), and look what you got back! This must be me. I am an emoji-panda-in-a-top-hat otherkin. Even though it's randomly generated, it kinda feels like a picture of your Internet soul. (If you are a poop with a face, I'm sorry.)
Symbol drawings like this are, after all, a deeply Internet art. ASCII drawings, made from typographical symbols, were around before the Internet—people made painterly typewriter art out of letters and punctuation. But ASCII art really found its voice in the BBS age and beyond, with elaborate drawings in people's signature files and messages peppered with smaller, more utilitarian ideograms for roses, dicks, or Kirby.  (-,-'-@, 8===D, and (>'-')> respectively.) It's still going strong, as you know if you've ever gone ¯_(ツ)_/¯.
You'd think that emoji might herald the end of crude typographical kludges standing in for images—why 8===D when you can [eggplant emoji]? But in fact, it just opens up a whole new realm of ASCII art potential. A realm where you can be a frog in a bikini drinking a beer.
@emojidoll has only been around since 9:23pm on July 10, so it's just now starting to gather steam, and with it the attendant stints in Twitter jail. As I write this, it's in lockdown. But surely it will soon be back, to revitalize ASCII art and show you what you really look like on the Internet.
Image via ottoyamamoto/Flickr (CC BY 2.0)