Far be it from us to mock anyone for their cosplay fantasies or online holiday shopping routine, but we really have to wonder if £14.99 is too steep for a presumably used black lycra zentai bodysuit "with penis" that'll take a month to ship from China. Even if Amazon only features sexless versions and seller juyuxuan2008 has 99.4 percent positive feedback on eBay.
Nevertheless, that's the winning price someone paid at auction for the niche garment, which has allegedly never been worn—though it's also "not in its original retail packaging" and "may be missing its original retail packaging materials," so take that with a grain of salt. (Good thing there's a 14-day window for returns, at least.)
If you're wondering what the hell a zentai is, you're in luck: The Internet has become obsessed with the skin-tight, total-coverage, Japanese-invented bodysuits over the past few years. Morphsuits, a Scottish company that's been selling zentais modified for better vision since 2009, has amassed more than 1.3 million "likes" and considerable goodwill on Facebook, while similar costumes have featured as visual gags on sitcoms including Archer and It's Always Sunny in Philadelphia. Generally, they seem to be worn for sporting events, Halloween-like celebrations, or fetishistic foreplay.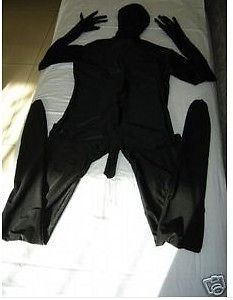 I'm not sure: Could you don this outfit without feeling like you're wearing another man's anatomically correct shadow? We notice it's listed as a unisex item, so maybe that's the entire point. Anyway, things are bound to heat up wherever this little guy ultimately lands. I imagine an S&M dungeon, but one with a stage equipped for experimental burlesque dancing.
H/T UsVsTh3m | Photo by seinbest/Flickr