If there's one thing millennials loved about Barack Obama, it's how hip and with it of a president he was. If you need any indication, just listen to his speech for Jay-Z's introduction into the Songwriter's Hall of Fame. And, no matter what your politics are, many feel Donald Trump doesn't engage with the world with the same kind of zeal.
Until now.
Because today during his trip to France to celebrate Bastille Day, Donald Trump took in the sights and sounds of 1997's hottest French house act: Daft Punk.
Watch how hip he is.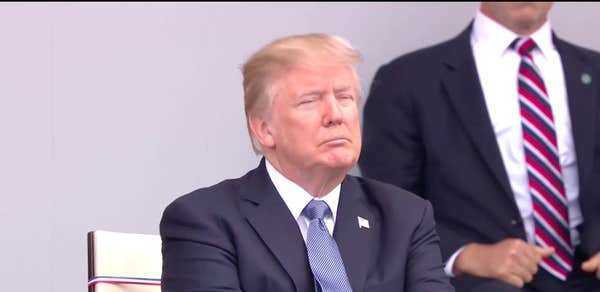 The performance came from a French military band that covered a medley of Daft Punk songs for French president Emmanuel Macron and Trump.
If you are one of those people who has argued our current president doesn't have the same appreciation for the arts as Obama, let these screengrabs of him enthusiastically enjoying renditions of one of electronica's most influential acts change your mind.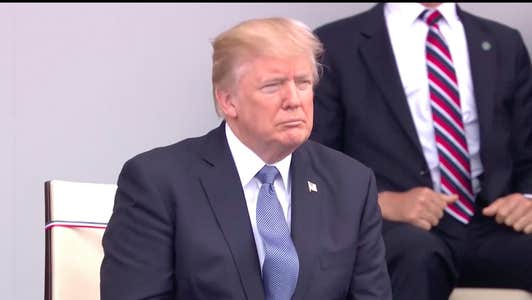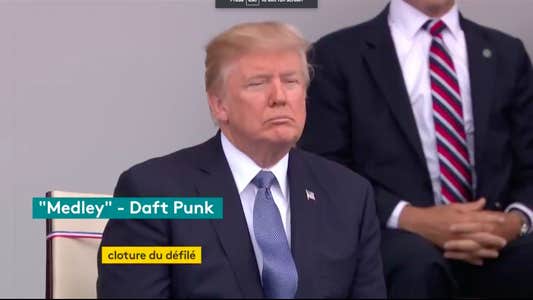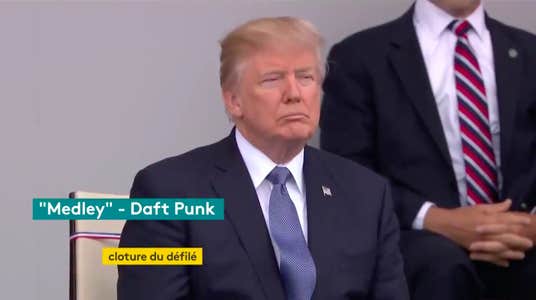 That is the look of a man who burned a hole through his copy of Discovery and can name every track from Random Access Memories.
Quand l'armée française joue Daft Punk #14juillet https://t.co/4W3crCyoDT pic.twitter.com/YZa7vyk5TB

— franceinfo (@franceinfo) July 14, 2017
During the celebration—perhaps hyped after jamming out to some mid-2000s trance—Trump and Macron, who have had some handshake drama before, enjoyed a 30-second long embrace that is… something.
Séquence serrages de mains toniques pour les deux couples présidentiels. 🤝 #14juillet pic.twitter.com/vunk3yxm5I

— franceinfo (@franceinfo) July 14, 2017
There's no doubt when Trump gets back to Air Force One, that plane will be bumping "Around the World."