It wasn't so long ago that Digg was considered dead.
After its slow but certain demise as a social network, however, its brand and core technology was bought by Betaworks for $500,000 in mid-2012. Then came an unlikely relaunch of the site, which was rebuilt from scratch in six weeks. These days, Digg enjoys a reputation as a stellar Web news aggregator. But the team that resurrected it is hardly content to stop there.
Today marks the appearance of the first in a series of "Digg Originals," a feature by Stan Alcorn that poses the question of why audio material doesn't go viral the way videos, GIFs, and image macros often do.
Digg has published original reporting before—there was an April 2013 piece titled "When Your Twitter Friend Turns Out to Be the Boston Bomber"—but going forward, you can expect quite a bit more. "The great thing about Digg is that we can kind of throw things against the wall and see what sticks," explains Anna Dubenko, Digg's managing editor. "That's what happened when Google decided to kill its reader and we jumped on the chance to build one of our own." She's referring to the other major development for Digg since the 2012 revamp: a Web, iOS, and Android app.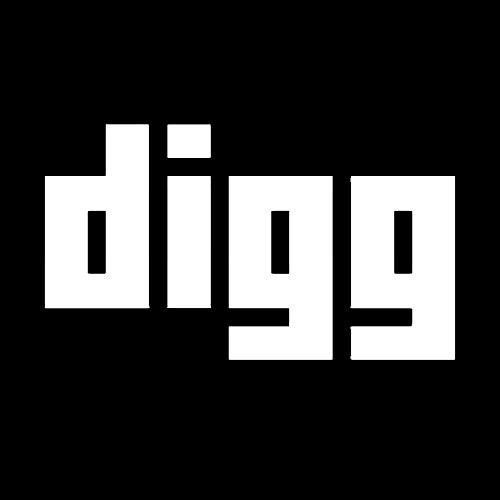 The idea to branch out in this way emerged from the patchwork and incomplete nature of the Internet itself. "Our biggest concern is to provide the best and most interesting content to our readers," Digg's creative and editorial director, David Weiner, told me. "To date we've been able to mostly achieve this through aggregation, but over time we kept finding ourselves saying, 'Man, I wish someone would do a piece on such and such' or 'If only someone were to explain this concept in a digestible way.'"
Dubenko, who left a Ph.D. program in English at Yale to join the company, also wanted meaty stuff to sink her teeth into. "All it took was one conversation" with execs to get the ball rolling, she said. The door was open to any sort of compelling investigation. 
Alcorn's essay in particular was something of a happy accident and an example of how the Digg staff have allowed curiosity to be their guide: "David Weiner was at a bar and someone asked him why audio doesn't go viral and he thought it was an interesting question," Dubenko said. "He brought it up to me and I couldn't find any stories about the topic, so we both thought it would be a fun side project to commission a longform piece."
The Digg team isn't necessarily interested in competing with established brands with a particular expertise, just filling in the cracks: Dubenko noted that some writers "can't find the right platform for their content." If you are one of those people, email her with all due haste.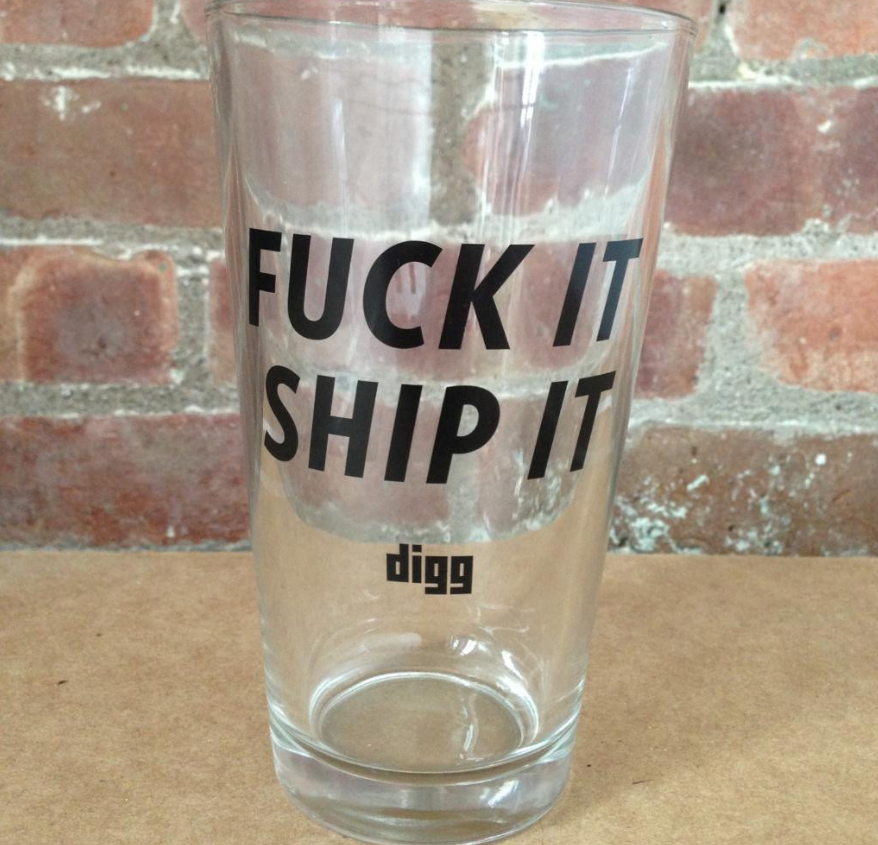 "As for how we're zeroing in on areas of interest," Dubenko confided, it's "not really scientific—more of a gut feeling combined with the fact that we sit online and scour other publishers' content all day." Weiner noted that "Digg Reader was a fantastic technical sprint for us and really showed how well our tech team can work under pressure. The content side of things will surely be a big challenge for us as well, but like everything else around here, we're going to try to do it all with a sense of humor and a bit of a 'fuck it, ship it' attitude." (Even the Digg office glassware comes emblazoned with the motto—see right, courtesy of Digg social media editor Veronica de Souza.) 
Flying by the seat of one's pants, indeed, seems to give content the kind of spontaneity that leads to viral success.
For that reason, much of what's to come is still at the brainstorming stage. Weiner remarked that "holes that we seek to fill present themselves without warning," while Dubenko hinted that Digg would be producing work for and generally expanding their video vertical. In any case, they've come a long way in perfecting the science of predicting what Internet-savvy readers want to see in their daily media diet—it was only a matter of time before they started to identify needs and gaps they could address themselves.
Beyond that, they'll have to do what every journalist does: wait and see what happens.
Photo via Veronica de Souza