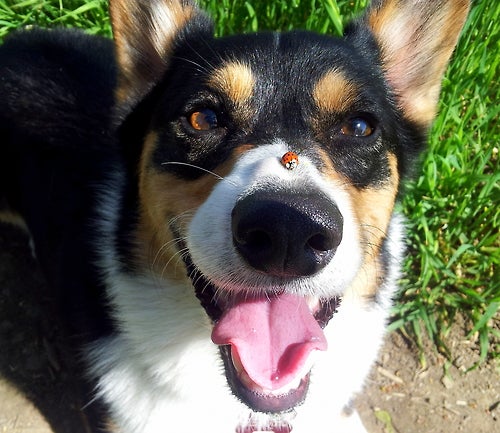 A Sacramento, CA corgi named Franklin caught a fleeting glimpse of a ladybug at the park last week, and while he felt an instant connection, there was little chance the two would ever meet again.
"He was late getting home, and she was out running errands," says Jennifer Winter, a friend who was with the dog at the time. "He was really  bummed about it, so I told him to write a 'Missed Connections' post on Craigslist. It couldn't hurt, right?"
"Me: Smiley corgi. You: Beautiful ladybug. Saw you at the park and our eyes met before you flew off," the ad reads. Sure enough, Franklin got a reply.
"Her name is Sheila, and they've already had four playdates over at the park where they first met," says Winter. "I've never seen him so happy."
Submitted by Melissa.