"You'll never see another one like this," says the Craigslist seller of a "must see" leather couch he says he had custom-made for $20,000. Unfortunately, he got married, and his wife says it's got to go. 
It's hard to tell what, exactly, his wife doesn't like about it. This thing looks comfy as hell. 
Maybe the fact that it's a not-so-subtle ode to male and female genitalia?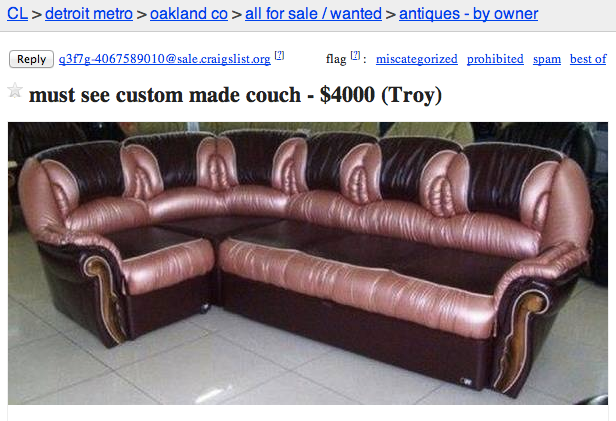 A quick Tineye search reveals that the ladyflower sofa might not be as "one of a kind" as this seller claims. It was recently featured on a site called the Accidental Vagina in a post titled "Seven Vaginas for My Special Valentine." So unless this thing is the Traveling Pants of crotch couches, hopping around different living rooms and collecting blog posts along the way, it's probably safe to assume it's fake. 
I don't care. I offered $4,001 for it. It sure beats the IKEA Ektorp.
Photo via Craigslist