The first few weeks I lived in Los Angeles, I spent every free moment scouring Craigslist for a dog. I'd lived in New York City for four years, and none of my living situations were permanent or large enough for a little hound to thrive.
Finally settling into a nice carriage house out west, I decided I wanted a canine friend. But Craigslist yielded more weirdness than puppies. Eventually, I saw a Facebook post about a recently rescued yellow lab mix and decided to go for it. As a hippie I met later told me, "You don't find a dog, man. A dog finds you."
During the time I spent on Craigslist's pet section though, I found plenty of posts that were at best unusual, at worst really messed up. Here are the 10 weirdest ads I encountered. Some of them are not safe for work or life. 
1) A woman collecting cat hair
This one by far takes the cake. I'm not even sure what to do with this. A woman on Craigslist wants cat owners to mail her their cat hair because she's starting a collection in memory of her dead cat. Did I somehow travel back from my inevitable future and make this post?
Note: Serious inquiries only!

2) Emus for sale
There are plenty of exotic pets up for sale on Craigslist. Interested in your own personal emu? Look no further.
3) Free horse
Nothing sketchy about this free horse. You want a horse, but don't want to pay for it? Are you a glue factory or a little girl? Are you a Romney who is just like, ugh, so many expensive horses, we can def afford to just give one away? Why is this horse free?!
4) Looking for Margie
This one has nothing to do with pets or animals. He's just looking for a painter named Margie. Have you seen her? Is she a cat that can paint with its paws? Nope, just a human.

5) Pregnant donkey
You know, I would LOVE to purchase a donkey, but every one I find just isn't pregnant. It's such a bummer. Oh, would you look at that! This donkey is pregnant! Thank goodness because I need those donkey babies for… reasons.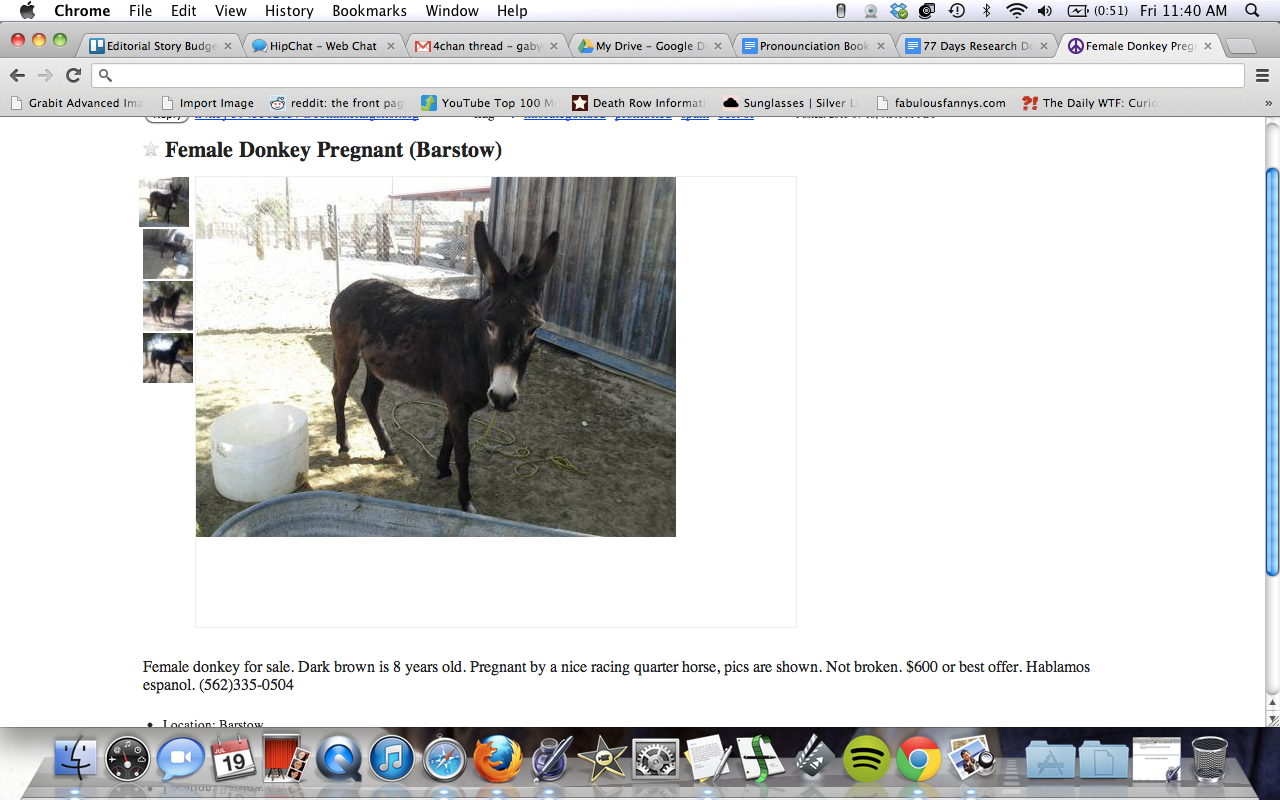 6) Scary geckos
It's not that weird to sell a gecko on Craigslist, but why would you use that terrifying photo? It looks like that gecko has come for my soul and is going to eat my face off in the night. That photo now haunts my dreams. It's this gecko's gonna crawl out of the screen like the girl from The Ring and kill me.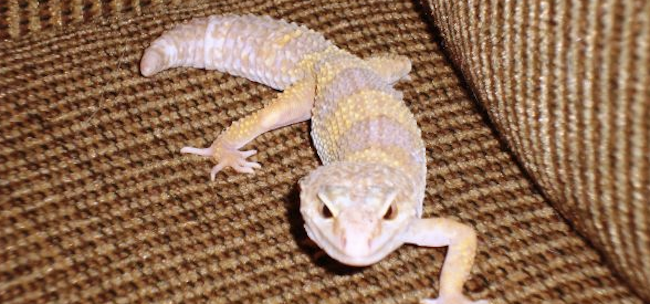 7) 15 alpacas
Not one, not two, nope. 15 ALPACAS! Get them while supplies last.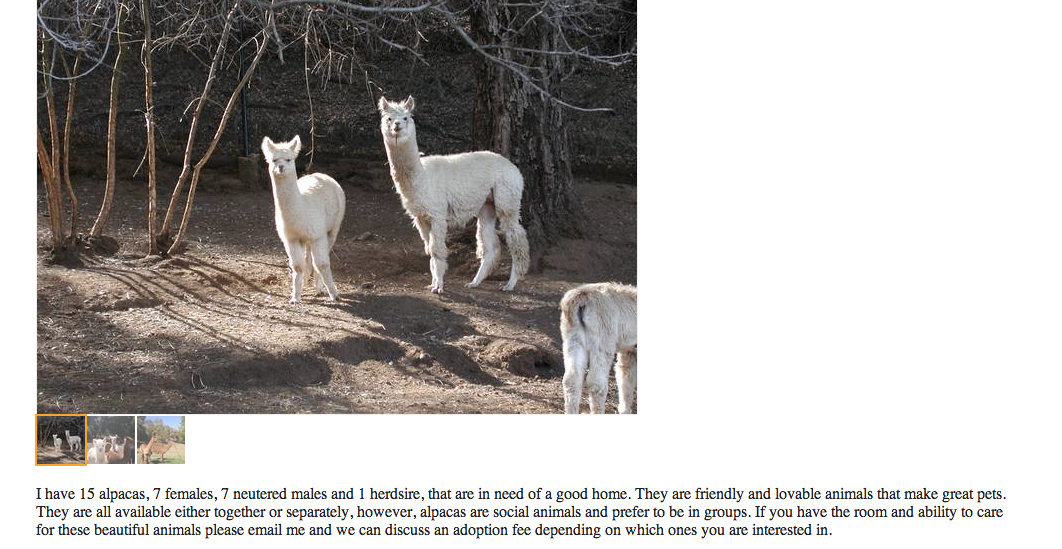 8) 2 dozen free goats
If those 15 alpacas aren't enough, you should probably take these goats off this man's hands. They're doing some serious damage. The best thing about this one is that he doesn't even pretend like they're well-behaved goats you may want to adopt. These goats are straight-up monsters.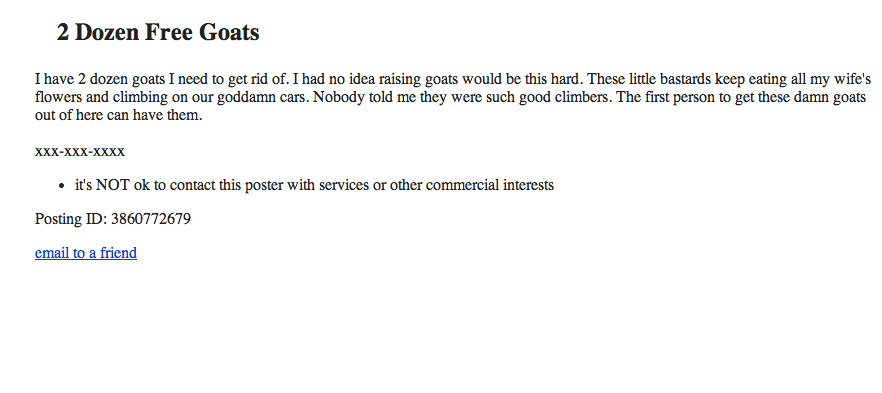 9) Pet cat for hire
It's a bad economy when even pets need jobs. This cat is looking for work as well, a cat. He's got a CV and resume all ready, as well as explanations for why he's been out of the work force the past few years. Hire this cat!
10) A cat's butthole
When in doubt about your pet's gender, always post a photo of their butthole to Craigslist. Then ask those who view it to text you their best guess on whether, judging by the cat's butthole, it is a boy or a girl. Or you know, you could take it to the vet? Nah.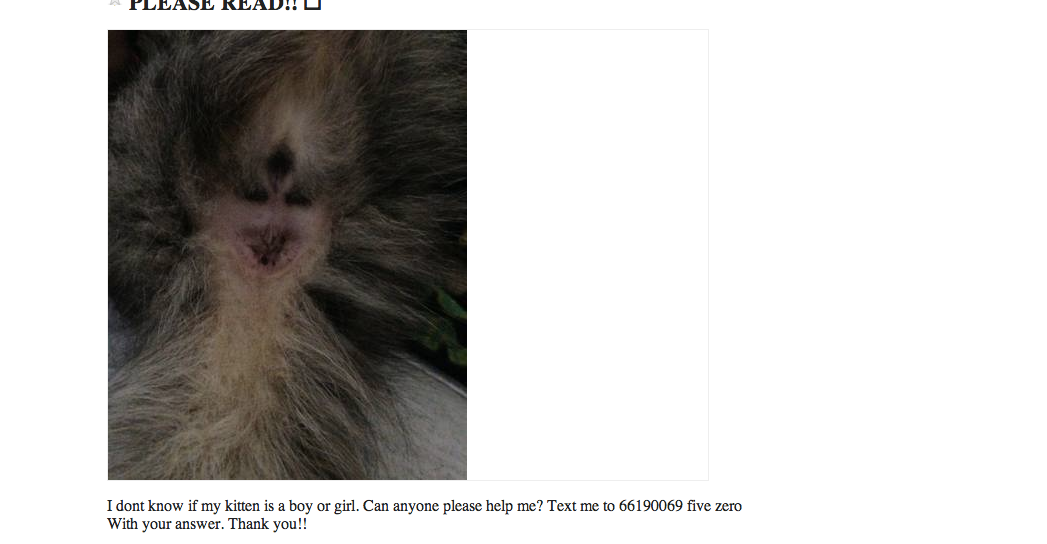 Photos via Craigslist