Comedian Jason Sereno is having a laugh at the fact that the Chicago Sun-Times has laid off its entire photography department.
On Thursday, the newspaper issued a statement confirming the staffing decision.
"The Sun-Times business is changing rapidly and our audiences are consistently seeking more video content with their news," the release explained. 
"We have made great progress in meeting this demand and are focused on bolstering our reporting capabilities with video and other multimedia elements. The Chicago Sun-Times continues to evolve with our digitally savvy customers, and as a result, we have had to restructure the way we manage multimedia, including photography, across the network."
That "restructuring" means that they'll rely more on freelancers who, in addition to writing content, will also provide their video and photographs. This proved to be the perfect fodder for Sereno, who on Thursday afternoon posted a Craigslist ad entitled "Chicago Sun-Times Needs iReporters."
" Quick question: What is an aperture?" asked the fake ad.
"Answer: Who gives a shit?"
Sereno's ad then goes on to rip the Sun-Times.
"Due to changes in the media landscape and an unwillingness to pay professional photographers for full-time employment, the Chicago Sun-Times is searching for iReporters to cover a wide variety of subjects and events around the city."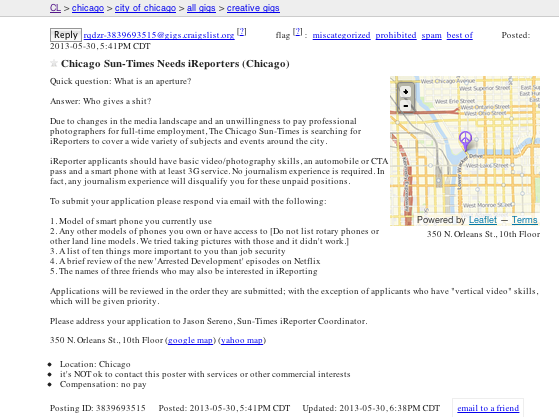 Photo via Craigslist
Potential candidates should have rudimentary video and photographic skills, transportation, and, above all, a smartphone. Previous journalistic experience is not only not required, but it would be detrimental for anyone applying. 
Interested applicants are also required to provide a "brief review of the new 'Arrested Development' episodes on Netflix," and the "names of three friends who may also be interested in iReporting."
Sadly, being an iReporter doesn't actually pay, but at least you can say that you worked for the same newspaper that just laid off Pulitzer prize-winning photojournalist John White.
H/T Romenesko | Photo via Connie Ma/Flickr