Let's be honest: You've been working hard all week, and you deserve to spend a few hours watching a livestream of adorable shelter cats exploring, frolicking, and snoozing in a Christmas-themed environment, complete with a tree, fireplace, a knitting granny, and one of Santa's tireless elves. 
Welcome to the strangely hypnotic world of Christmas Cats TV, which is filmed in Brooklyn and has aired for eight hours straight for each of the past two days. Today marks the final "episode," if you could call it that—and a great opportunity to adopt a friendly feline, all of which reside at the Port Washington, N.Y.–based North Shore Animal League America, the "world's largest no-kill animal rescue and adoption organization.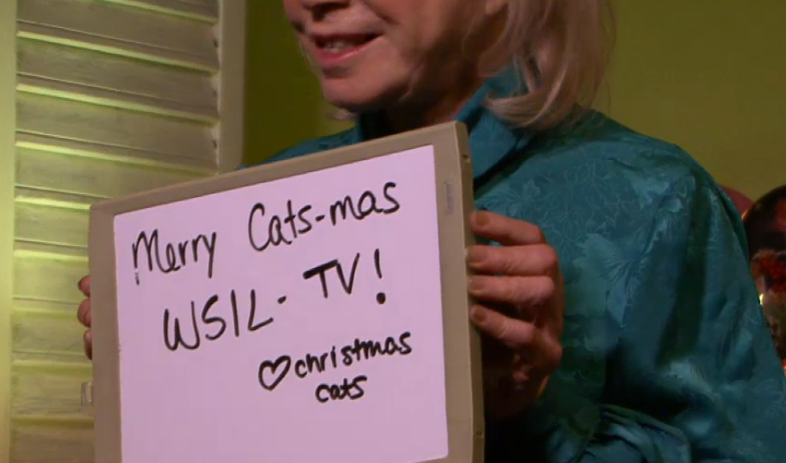 You can also just request a shout-out while basking in the holiday warmth of Tony Bennett's Classic Christmas and admiring the tenacity of whoever got those little sweaters on the cats without getting scratched to death. There's a Twitter account as well, if you're just looking for a string of Christmas cat memes (and who isn't).
Come cat me bro! @PlayStation @Sony https://t.co/YMbvxr1Gr5 #ChristmasCatsTV pic.twitter.com/3xEh6Pzk14

— Christmas Cats TV (@ChristmasCatsTV) December 6, 2013
Slate wants to see his face on @IBTimes @nadinedeninno #ChristmasCatsTV pic.twitter.com/zoXm2mrWxz

— Christmas Cats TV (@ChristmasCatsTV) December 6, 2013
All I want for Christmas is a family <3 https://t.co/YMbvxr1Gr5 #ChristmasCatsTV #cats #meow pic.twitter.com/DY1sZHZM82

— Christmas Cats TV (@ChristmasCatsTV) December 6, 2013
Even if their image macros could use a better copywriter, it's a cute concept, a great cause, and a perfect way to waste the rest of your afternoon. Still, the show crosses a line every now and then:
#Equality for all, except DOGs! @equalitync #ChristmasCatsTV #equalityworks pic.twitter.com/iF11bQ2Ebp

— Christmas Cats TV (@ChristmasCatsTV) December 6, 2013
Excluding dogs from Christmas cheer? You've gone too far, Grandma. Luckily, mine only celebrate Hanukkah—they're "Chewish."
Me too, buddy, me too. pic.twitter.com/v1rdmhQZn4

— Choire (@Choire) December 6, 2013
Screengrab via christmascats.tv