A father on TikTok shared a video featuring what he claims is his daughter being "pulled" under her bed by a paranormal being. 
In the footage, a child is on top of her bed, hunching over it to seemingly peer at something underneath. She then gets off the bed and inches further and further underneath it until only her feet are visible. The child can be heard crying out for her "mommy" while going under the bed. The TikToker, who goes by @joshdean0222 on the platform, revealed in the text on the video that his wife thinks she crawled under the bed but that he believes "she was clearly pulled by something."
The footage, which was seemingly taken on a baby monitor in the child's room, has been viewed over 8.7 million times since being posted on Monday. According to a timestamp on the video, the incident occurred on Feb. 21.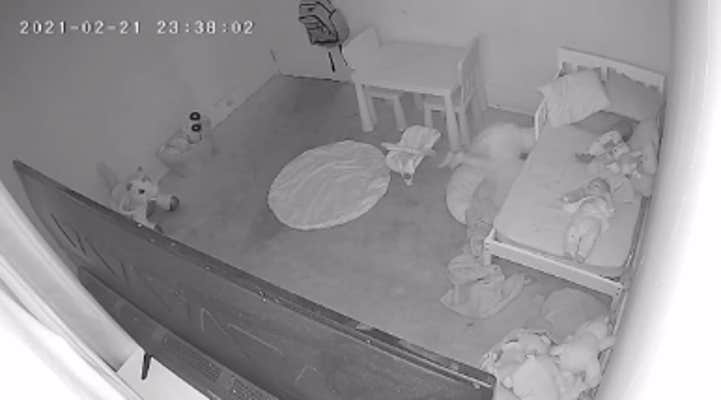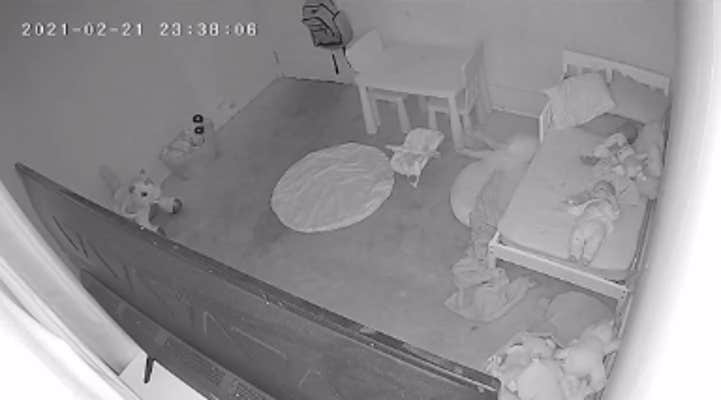 Many commenters are sharing the wife's doubts that paranormal activity was at play in this instance. "The logical explanation is that she wanted her toy and went for it then either realized she was stuck or got scared because it was dark," one said.
"The kid obviously climbed under there looking for a toy and then cried because they couldn't figure out how to get out," another wrote, calling the explanation "common sense."
However, less-skeptical TikTokers are urging the dad to "cleanse that house" and not let the child "leave your sight." "There's no way she was scared and crying mommy and just willingly kept crawling under there," one viewer wrote.
"Personal experience this is horrible and terrifying pls go to your local church and ask for some holy water and bless the room if not the whole home," another said.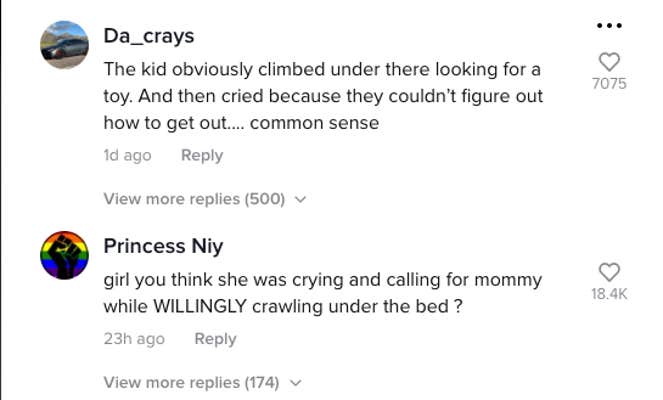 The dad posted several follow-up videos responding to the cynics. In one video, the dad reveals there is nothing underneath the bed. "What toy could you be going after?" he rhetorically asks his child. "Nothing."
He also posted footage revealing what happened after she was "pulled" under the bed. One video features the child crying out for her parents for about a minute; others show the child's mother entering the room and consoling her.
The TikToker also posted videos featuring other instances of "paranormal" activity, including one that features a "voice" telling the child to "lay down." The parents claim they tried to film under the bed but that the dad's phone malfunctioned when he tried to view and post the footage.
H/T UNILAD