In Buzzed, we take a look at three things that trended over the weekend while you were away from your keyboard getting buzzed.
On Twitter
On Friday, Justin Bieber was pumped for his 19th birthday—his hometown's legal drinking age. "Big night ahead," he said excitedly. Hours later, it turned out things didn't go as planned. This is one of the saddest things ever written on Twitter.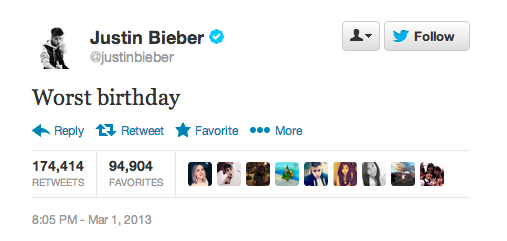 E! News reports that the London club didn't let in some of Bieber's crew, thinking they were underage. It forced the Biebs to call it an early night. There's always next year, buddy.
On YouTube
If you haven't been watching Kevin Spacey take names in Washington, D.C., on the Netflix-only show House of Cards, well, you should. But now there's a spot-on parody mocking the papal transition called House of Cardinals. Whoever this actor is, he should be beatified for that amazing imitation.
On Vine
Celebrities—they're just like us! The cast of Modern Family found themselves stuck in a hotel elevator for an hour Friday night. Cast member Jesse Tyler Ferguson Vined (is that a thing?) the whole experience. But if you're a fan of the overrated comedy, don't worry. They were rescued and everyone is doing just fine.
Photo via House of Cardinals/YouTube