The song is nonsense. It's rhyming gibberish. But you just can't get it out of your head. "Beep beep, I'm a sheep," you think as you wake up in the morning. "Beep beep, I'm a sheep," you mutter to yourself as you're falling asleep. Beep beep, you're a sheep, and there's nothing you can do about it.
"Beep Beep, I'm a Sheep" was created in 2016 by popular YouTuber and "20-something British comedy person" Thomas "TomSka" Ridgewell, best known for his stick-figure animation series asdfmovie. TomSka came up with the ridiculous song—whose complete lyrics are "beep beep, I'm a sheep, I said beep beep I'm a sheep"—while recording a video, and his friends joined in.
It was a minor sensation, with almost 200,000 views, and a few fan remixes of the song managed to rack up five-digit view counts.
It wasn't exactly a tremendous internet phenomenon, though. That wouldn't happen until April 2017, when TomSka included a "beep beep, I'm a sheep" callback in a new episode of asdfmovie:
Just three days after its release, the episode had nearly 7 million views and made YouTube's trending list—pretty typical for an asdfmovie video. "Beep beep, I'm a sheep" was just one small part of the larger video, but TomSka wasn't done with it yet.
Here's what finally turned "Beep beep, I'm a sheep" into this week's best, most annoying viral earworm. It's a full, animated music video for the song, with a new beat and a bunch of new lyrics. Meow meow, I'm a cow, anyone?
Asdf collaborator Todd "LilDeuceDeuce" Bryanton produced the track, and asdfmovie's regular animator, Ben "Wonchop" Smallman, provided the visuals. Even though it wasn't shared on TomSka's hugely popular channel, the video still has millions of views, and Google search queries for "beep beep, I'm a sheep" are through the roof. Not bad for a tossed-off nonsense rhyme.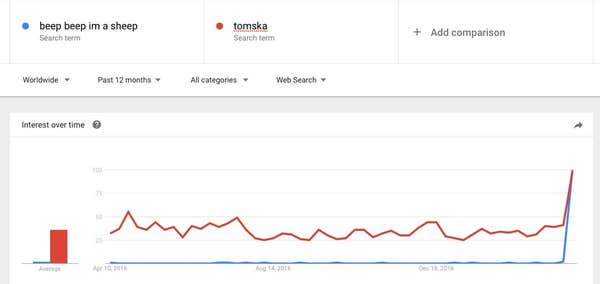 This is just wild speculation, but perhaps "Beep Beep, I'm a Sheep" is so viral because, once you hear it, you can't suffer the curse alone. Passing it on to others, that they might share your pain, will only lead to a global "I'm a sheep" pandemic that will shut. down. everything. I hope you're happy, TomSka. You've broken the internet.