If you've ever read Neil Gaiman's creepy children's book Coraline, you suspected the author is actually a lurking creature. Now, a British museum has provided us with confirmation. As reported by the BBC, the Story Museum in Oxford has partnered with photographer Cambridge Jones and a host of acclaimed British children's authors to capture their favorite literary heroes through cosplay.
And of course Gaiman's surprising choice has teeth and a tail.
26 Characters is an interactive story exhibit running at the Story Museum through Nov. 2. It involves a number of elements of storytelling and world-building, and features designs from Harry Potter's Michael Pickwoad and Doctor Who's Alix Harwood, along with costumes donated from the Royal Shakespeare Company. The museum teamed up with Jones and the group of British authors to bring a number of literary classics to life.
Here's current Children's Laureate Malorie Blackman as an iconic hero—or should we say villain: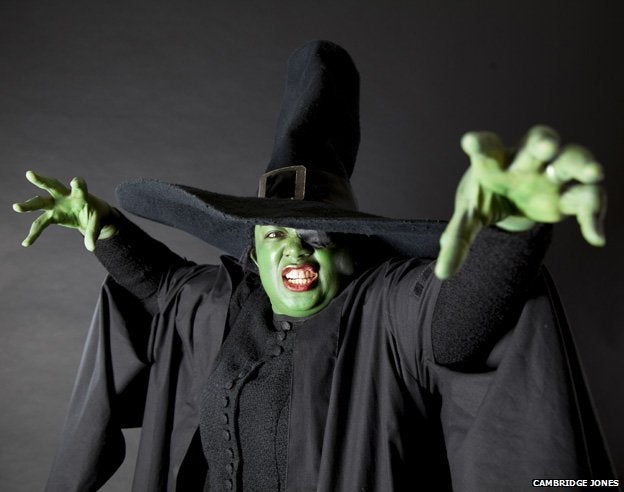 Malorie Blackman as the Wicked Witch of the West from The Wizard of Oz; Photo via Story Museum
Gaiman went for a surprising choice—the badger from Kenneth Grahame's children's classic The Wind in the Willows.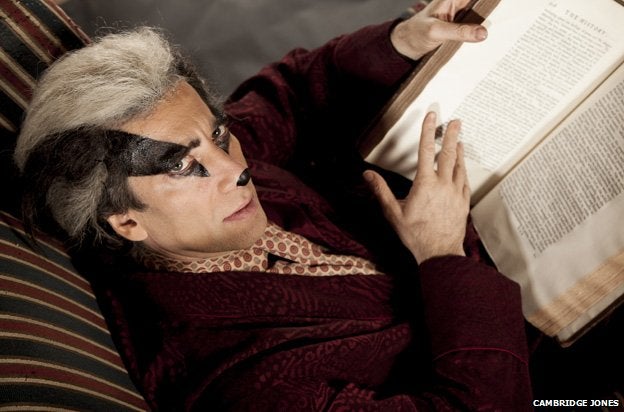 Neil Gaiman as the Badger from The Wind and the Willows; Photo via BBC News
Jones shared his thoughts on Gaiman's unexpected transformation for the BBC website: 
It never struck me as one of the best ideas – Neil Gaiman as Badger. A medieval swashbuckling hero maybe, or as a dark overlord from another time zone, perhaps. Or even the lead singer in a very cool band….but Badger from Wind In The Willows?!

And then an odd thing happened: he just started to become Badger – literally in front of my eyes. With wonderfully simple make-up and exquisite robes, he started to move like Badger, he started to smile like Badger, he even started to talk as I imagine Badger talks. When we finally went on set and gave him his chair and book, he just WAS Badger.
One thing not even the cosplay photoshoots can convey is how immersive and detailed the experience of the 26 Characters exhibit is. U.K. blogger Helen Barker describes it on the website Geekmom:
I had expected perhaps a few photographs and maybe some explanation about the books, but what we found there absolutely blew me away. The exhibition is built around Cambridge Jones' wonderful portraits, but these work alongside an immersive experience which brings each story to life by using a range of multimedia techniques. They've used the slightly dilapidated buildings wonderfully, using small rooms and kitchens, and in one funny instance, the toilets, to build world after world. You peer through pots and pans to spy The Borrowers' home, search for The Scarlet Pimpernel, push through fur coats to enter Narnia, clap to hear Tinker Bell, and swab the deck of a pirate ship. It's quite simply breathtaking.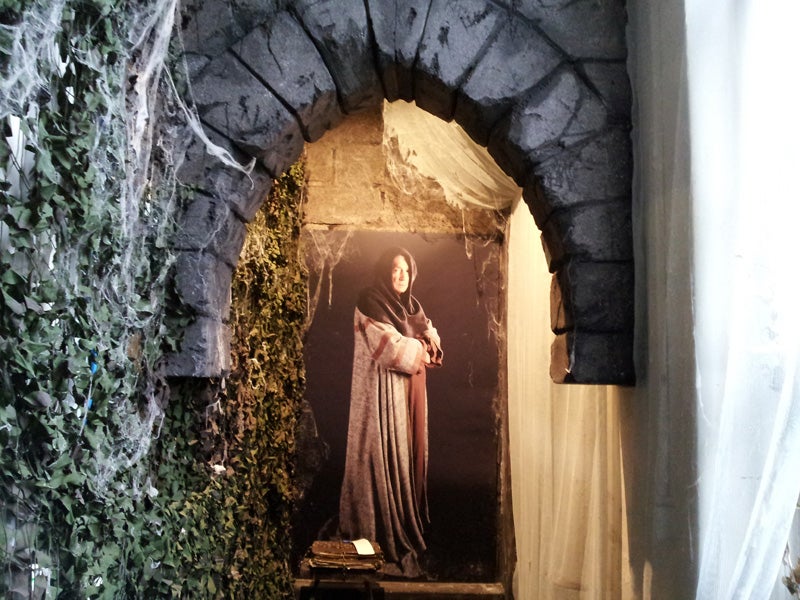 Kevin Crossley-Holland as Merlin, originally photographed by Cambridge Jones. Photograph by Alex Coke via Geekmom
The authors aren't the only ones who get to play in this fairy tale land, however. A special room in the exhibit lets kids of all ages create and dress up as characters of all sorts, then take their place on a throne to receive their just acclaim: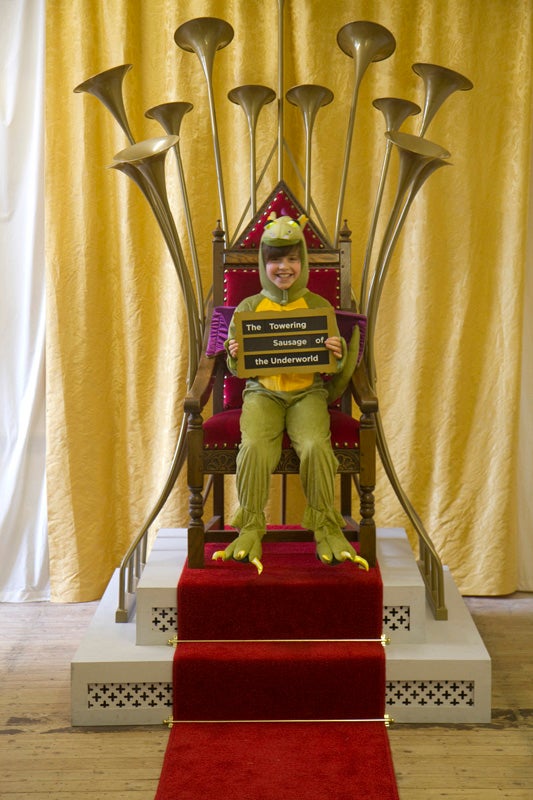 Photo by Duncan Saunders via Geekmom
In addition, children can contribute to an online gallery of cosplay and fanart of their favorite characters.
You can also hear the authors talk about why they chose their favorite characters on Bandcamp, where all 26 stories have been assembled. Among them is acclaimed children's author Frances Hardinge, who talks about choosing her character, The Scarlet Pimpernel, because "I've always had a thing for tricksters." Clearly, the adult authors have a few tricks of their own at the ready.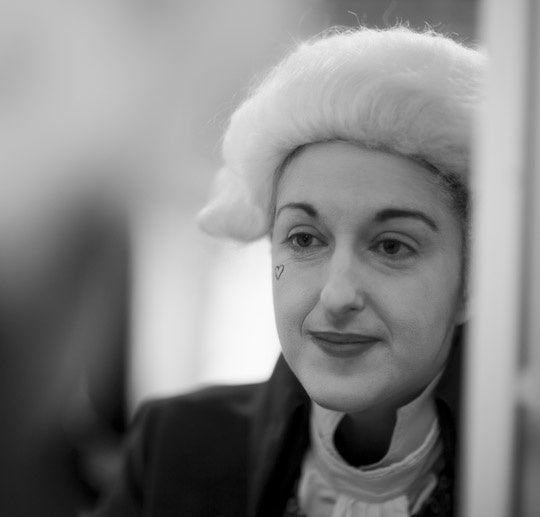 Frances Hardinge as the Scarlet Pimpernel; Photo via Bandcamp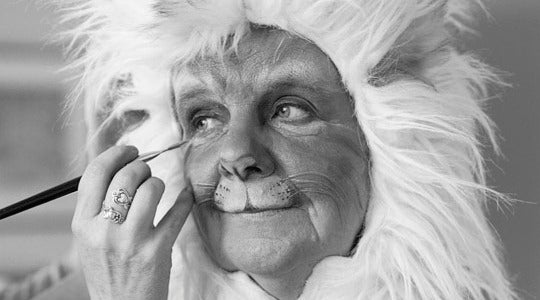 Julia Donaldson as the Pussycat from Edward Lear's "The Owl and the Pussycat"; Photo via The Story Museum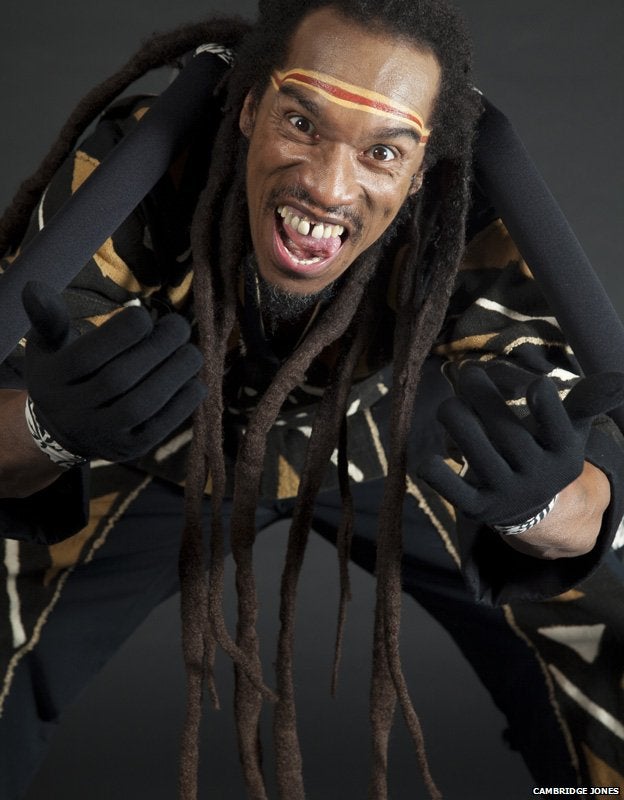 Benjamin Zephania as Anansi the Spider; Photo via BBC News
You can see more of the photos on the BBC Website, and on Bandcamp. 26 Characters runs through November 2.
H/T io9; Photo via The Story Museum