Get ready for drunk dads wandering around your local mall. After the success of October's one dollar margarita deal, Applebees has done what any good alcoholic would do, and moved on to something harder. Starting Dec. 1, and running the entire month, you can drink one dollar Long Island Iced Teas at any participating Applebees across the United States. A little deal the restaurant chain is calling the Dollar L.I.T.™.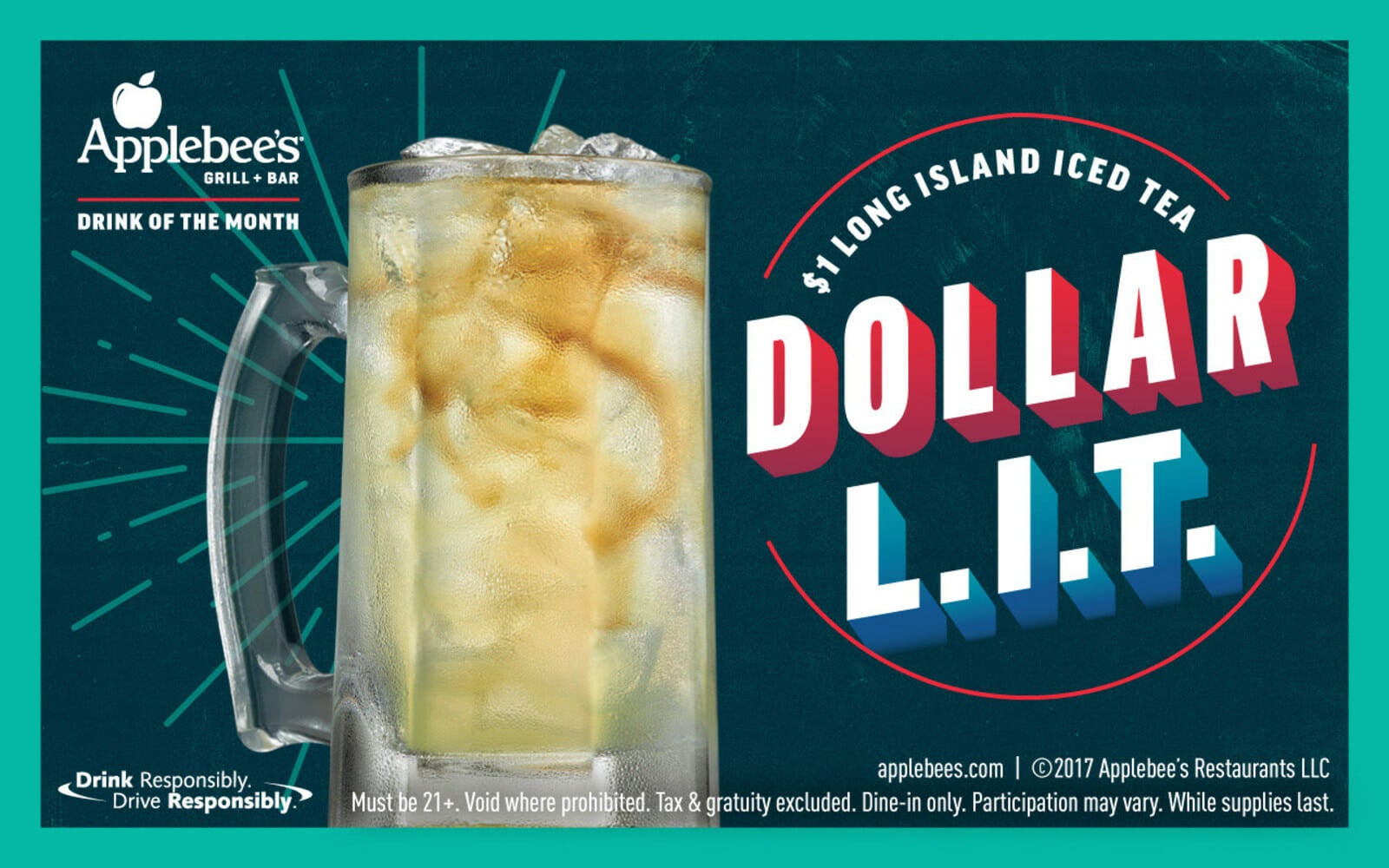 "The Dollar drink is back at Applebee's just in time for the holidays, and this time, folks can enjoy a $1 Long Island Iced Tea," said Patrick Kirk, vice president of beverage innovation at Applebee's. "The Dollar L.I.T. is kind to your pocketbook and a great drink to share with old friends and new ones this holiday season."
The famous cocktail is a mixture of rum, vodka, gin, tequila and triple sec. with a splash of cola, which is added so you can tell yourself you aren't just drinking five kinds of liquor.
"Exact spirit brands may vary, but they are all prepared with the same amount of 75-proof alcohol. There are 1.5 ounces of spirit included in each drink." an Applebee's representative told BuzzFeed Food.
Since 1.5 ounces is the normal amount of alcohol present in an average cocktail, Apple's Long Island shouldn't get you anymore "L.I.T." than any other drink but, at least according to past diners, the Applebee's Long Island is packing a lot of Christmas cheer in one glass.
https://twitter.com/_thesilence9/status/820804079270133761
https://twitter.com/Jenny_Johnstone/status/909986697542123520
At any rate, people seem to be looking forward to deal, which should make for some lively conversations at your local neighborhood restaurant.
https://twitter.com/Juwaneth/status/936067535128100865
Applebee's has $1 Long Island Iced Teas the month of December. Time to get hammered in the neighborhood. pic.twitter.com/yNxuXagCan

— Jonathan Maze (@jonathanmaze) November 30, 2017
I PULL UP TO APPLEBEES, VIP, GAS TANK ON E, LONG ISLAND ICED TEAS ON ME pic.twitter.com/MODXOYqhz3

— Pete Nocchio (@YoungQwan) November 30, 2017
https://twitter.com/_dannyphantom_/status/936059351923429376
$1 Long Islands coming to Applebees all December pic.twitter.com/Q4j0Nb6aV9

— Abbie Rossman (@gailrossman) November 30, 2017
As always, Applebees wants to remind everyone to drink responsibly which, in this case, might mean sticking to soda.