Edward Snowden may be stuck in Moscow without a valid passport, but there is a silver lining. Anna Chapman, a Russian spy deported from New York in 2010, has asked for his hand in marriage. On Twitter.
Snowden, will you marry me?!

— Anna (@ChapmanAnna) July 3, 2013
Chapman was a favorite subject of the New York Post due mainly to her looks, but her game was no joke: She infiltrated upper-class Manhattan for the Sluzhba Vneshney Razvedki intelligence agency as CEO of a real estate startup called Property Finder. 
If her arrest three years ago seemed a throwback to the Cold War era, this off-the-cuff proposal is head-spinningly futuristic. Two espionage personalities forced to leave the U.S. brought together by social media? It could be a match made in heaven.
Chapman has been married before, taking her surname from one Alex Chapman, whom she met at a London rave in 2001. But true love is found outside of parties and on the Web.
The tweet got a predictable slew of replies from gimmick profiles, some of which Chapman replied to in turn.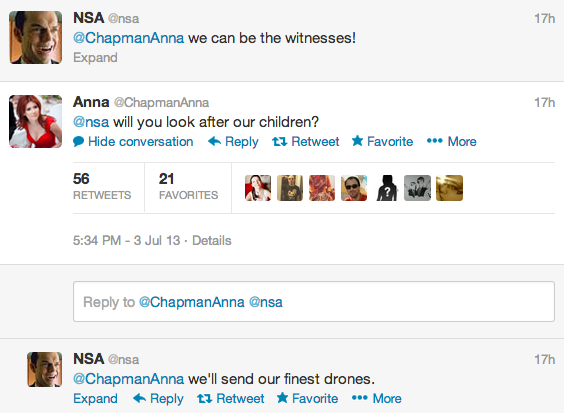 At any rate, Snowden (who is, technically, taken) should accept quickly. Chapman, apart from being out of his league, is quite the success in her homeland. She hosts a show called Secrets of the World (which Snowden should clearly appear on), edits the magazine Venture Business News, and writes a column for Komsomolskaya Pravda.
Plus, how else is he going to get a visa?
Photo via @ChapmanAnna/Twitter