Since the 1940s, U.S. Air Force pilots have sported all sorts of colorful patches to denote their fighter squadron and training class. These are usually images like cougars, scorpions, and skulls—symbols that exude courage and masculinity.
Recently, though, they've adopted another animal: pink cartoon ponies from a children's TV show.
At Oklahoma's Vance Air Force Base (AFB), a pilot-training unit has channeled its inner brony (fans, originally adult men, who follow the My Little Pony: Friendship Is Magic cartoon series) into a pony-inspired patch.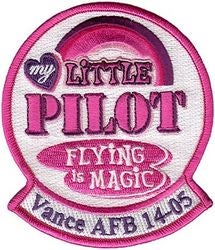 First Lieutenant Tom Barger told News on 6 that Vance's Joint Specialized Undergraduate Pilot Training program has proudly worn the patch since late April. It's good clean fun, he says:
"During a slideshow presentation while previewing the different patch options, the student presenter threw the 'My Little Pilot' patch design into the mix as an ironic joke," Barger said. "That patch made it all the way through the approval process and is even more ironic since the class never really wanted it in the first place."
Over the past two years, brony culture has become a regular fixture around the Internet. The term was originally coined on 4chan and has since spawned a commercial, a nonprofit organization, and an entire music genre all unto their own. Bronies have also encountered a significant amount of ridicule from the likes of TV host Jerry Springer.
While the patch is by no means an accurate reflection of the classes interest, Barger told Escapist Magazine that it has boosted morale.
"They thought it was so off-the-wall that it was hilarious," Barger added. "They have embraced the irony and humor of the patch and in so doing have fostered closer ties with each other." 
H/T Escapist | Remix by Jason Reed