Hello there! Did you have a chance to read this garbage? We hope not.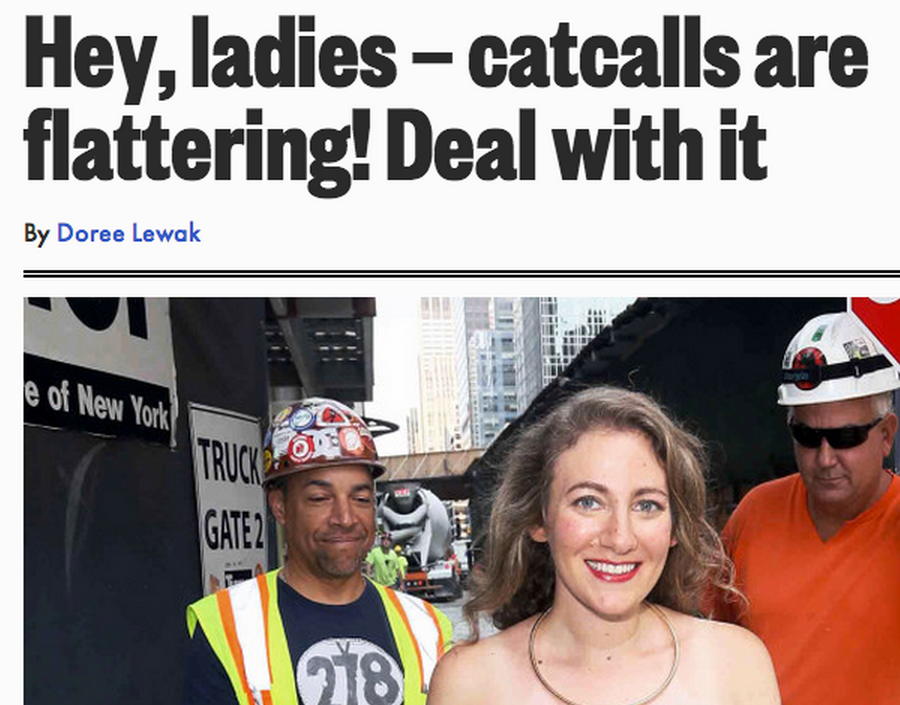 I'll never forget my first time: At age 20, interning at MTV in Times Square and taking advantage of the company's liberal summer dress policy, I was wearing a tightly molded pink tank top and black capris when I strolled by two construction guys on a lunch break. "You're hot!" they shouted, high-fiving one another. I was over the moon. What a contrast from those coy college boys who never expressed how they felt. This was a brave new world, where guys tell it like they see it.
Oh, New York Post: It's like you were waiting for that perfect hot August lull in which the deadliest Internet brush fires get started. Really, the only way you could have trolled us better would be if that awkwardly staged photo were a GIF involving pixelated sunglasses. (The entire front cover, by the way, absolutely screamed "Hate this!" So, you know, bravo.)
just saw a NY Post in the wild and they are going for the HARD troll today pic.twitter.com/uVq6h4nynl

— matt lubchansky (@Lubchansky) August 19, 2014
But we shouldn't be surprised—you've always had a way of getting under our skin. To be honest, it's happened a lot in the last year or two. Remember when you ran that article …
1) "Network suits shooting down free speech"
In the media world, one homophobe washes the other—here's Andrea Peyser nobly defending anti-gay comments made by "Duck Dynasty" star Phil Robertson in late 2013:
Robertson used the kind of crazy language that made him a household name to tell GQ magazine something that, according to a recent poll, 37 percent of Americans, and a probable majority of "Dynasty'' viewers, already think even if they're too scared to say it out loud: Homosexuality is a sin.
2) "'Guardians of the Galaxy' is space junk"
Whatever flaws you might find in "Guardians of the Galaxy," it didn't deserve Kyle Smith's repeated "Howard the Duck" comparisons. What was that about sticks in butts?  
Told that a legendary hero called Kevin Bacon saved the people who had sticks up their butts, Saldana's character asks, "Who put the sticks up their butts?" It's supposed to be Drax's job to be the sitcom cretin here, but in "Guardians of the Galaxy" there's so much stupid being delivered that everybody has to chip in.
3) "ALERT (yawn): Kimye weds"
Nice try, Post, but you can't pretend you don't care.
NY Post wins for best, most accurate Kimye wedding coverage. pic.twitter.com/pwK6W1WI8C

— Kirsten Taggart (@KLTaggart) May 25, 2014
4) "Being a great player doesn't make Peterson a great guy"
Phil Mushnick has always been a race-baiter, but he truly outdid himself in a column shaming NFL star Adrian Peterson for letting his 2-year-old son get murdered (emphasis ours):
Peterson couldn't have provided his son a better life, a longer life? Money can't buy love, but having signed a $96 million deal, he could not have provided his child—apparently his second from a "baby mama"—a safe home? But given Peterson's father did hard time for drug money laundering maybe we're both stuck with the values in which we were born, raised.
5) "Want great art? Keep dreaming!"
More Andrea Peyser! This, er, "critique" of Tilda Swinton's performance art felt just the slightest bit bilious, or ad hominem, or unhinged. No one gets out alive.    
Swinton, perhaps the least-known Academy Award winner this side of her home in Scotland (she won for 2007's "Michael Clayton"), is vying for the kind of fame whoredom one usually cannot buy while keeping her clothes on. She's Lindsay Lohan, minus the shoplifting. Kim Kardashian, minus the pregnancy, greed and major booty.
6) "You got served!"
Kyle Smith, at it again—this time excoriating waiters and waitresses for being too cheerful.
I'm not here to make friends. Frankly, garçon, I don't even need to know your name. By the time you tell me about the specials, I've already forgotten it. You're a servant. So serve. … In France, where I try to spend a week or two every year, waiters don't even work for tips (the customer is expected to leave a mere euro or two) and yet they're so much less annoying.
7) "Nation's crap-ital"
I hate D.C. as much as the next taxpayer, but driving down there so you can declaim that the initialism stands for "District of Crapola" stretches the bounds of op-ed journalism.
This is our capital. Home of the New World. Of the only world that really is. America. United States. Leader of the free world. Leader of any part of this world that really is. Take Pakistan. I've been there. Its government city is a lavatory. Dirty, littered, a dump. But who cares—that's Pakistan, right? Well, guess what. It's the same in our government city. Our beloved country may have young blood, but we're keeping it in old containers.
8) "I'm 124 sandwiches away from an engagement ring"
The current gold standard, no question: Stephanie Smith explains why her boyfriend will only propose if she makes him 300 sandwiches—essentially pitching a terrible book. (Also, it worked.)
Things were moving at a natural pace, but I wondered what it would take for him to propose. I'm in my mid-30s, and my parents have been happily married for more than 35 years. I have always valued the commitment and dedication it takes to get married and stay married. Call me old-fashioned, but I'd like to raise a family with someone who feels likewise. Maybe I needed to show him I could cook to prove that I am wife material. If he wanted 300 sandwiches, I'd give him 300 sandwiches—and I'd blog about it.
9) This cover
Hey, remember Thursday?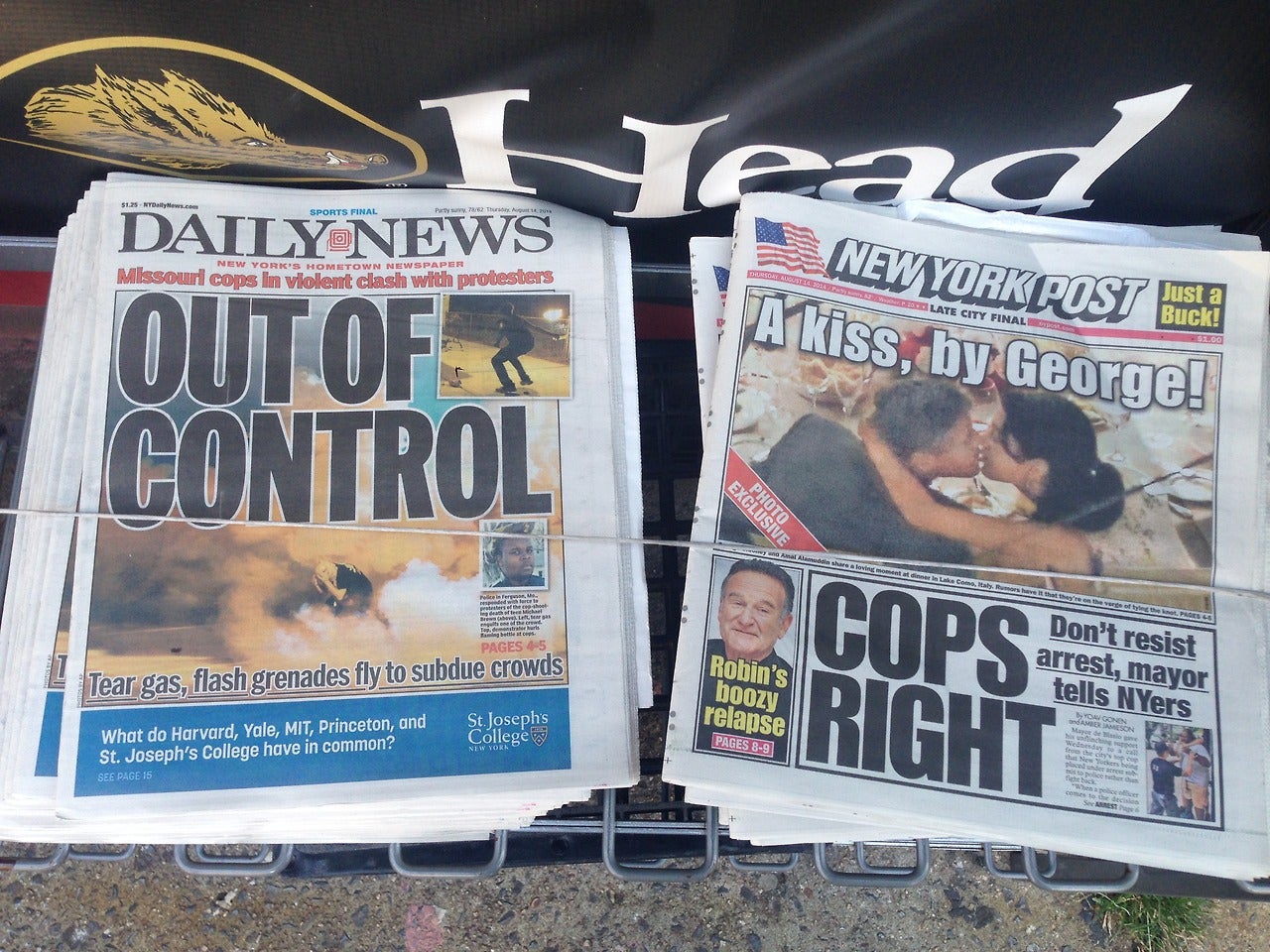 N.B. We reached out for help compiling this list, but the Post respectfully declined.
Illustration by Jason Reed