Cosplayer Elizabeth Schweizer had long been planning a project exploring cosplay and sexism. After a member of the media harassed Lara Croft cosplayers at a convention two weeks ago, she decided the moment had come.
In full superhero mode, Schweizer swung into action at last weekend's WonderCon, launching CONsent: The Importance of Treating Cosplayers with Respect," a photo initiative featuring cosplayers of all types and fandoms.
The Lara Croft offender at PAX East had allegedly muttered that the girls whom he questioned inappropriately deserved his treatment because of what they were wearing. Writing about how she decided to advance the timeline on her own project, Schweizer, a.k.a. Sushi girl, said that the response of event organizer Meagan Marie to the incident, as well as recent online discussions like #INeedFeminismbecause, had pushed her to take action.
While she was at WonderCon, Schweizer handed cosplayers a whiteboard reading "Cosplay ≠ Consent" and asked them to tell her about their experiences with harassment at conventions. Con harassment has been an ongoing subject of debate within the geek community for a while, from the need for anti-harassment policies to the importance of actually implementing them. One of the biggest arguments against the formation of anti-harassment policies is that claims of harassment are often exaggerated or even fabricated; but the cosplayers Schweizer talked to had plenty of experience to attest otherwise:
I was not surprised to hear many horrible stories from women and men alike. These can be as seemingly harmless and annoying as not asking for permission before taking a picture or bothering them for a picture or interview while they were taking a water or food break. But the majority of the stories were more serious and ranged from threats of violence to inappropriate touching, and from lewd facebook messages to stalking… The consensus is that it isn't safe to be a woman in cosplay.
Partly inspired by movements like SlutWalk, which can often make consent issues starkly visible (NSFW),  CONsent draws upon the outfits of its participants to remind con attendees and the general public that choosing to cosplay or wear revealing outfits is not an unspoken invitation for harassment.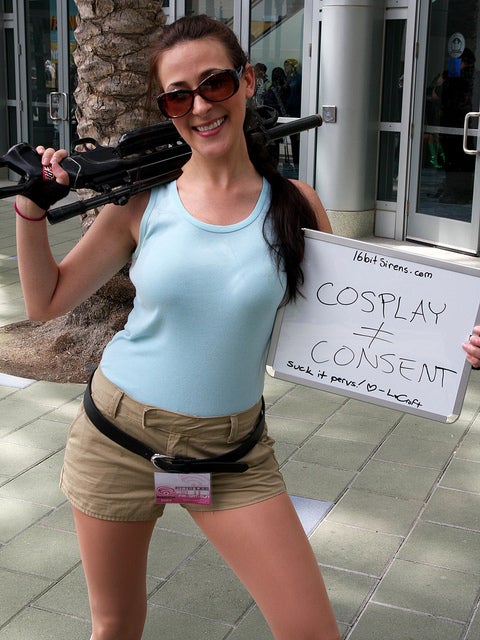 Photo via 16bitsirens/Flickr
"Lots of guys have used asking for my photo as a segue to asking for my number," one cosplayer told Schweizer. "When I turn them down, they always call me a bitch or something much worse."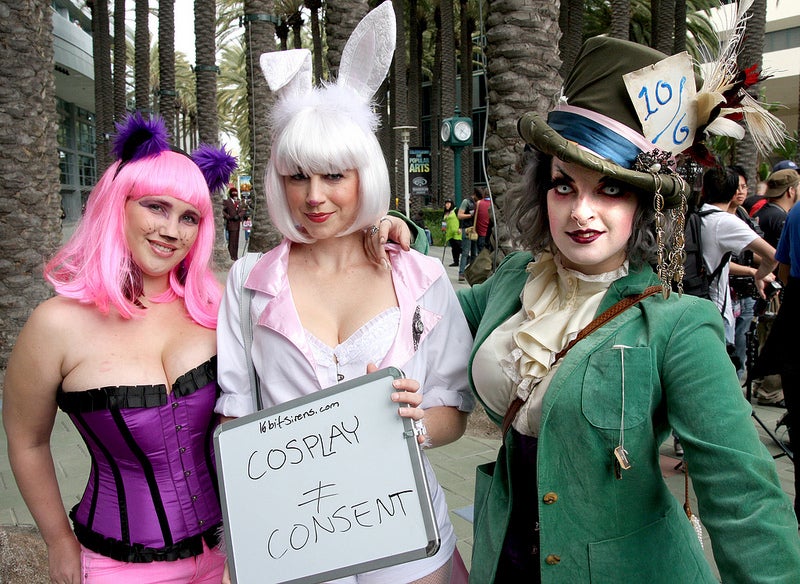 Photo via 16-bit Sirens
Although Schweitzer intended to grow her collection of photo essays as she went, enthusiasm for the project has already spread wildly. The Tumblr post she made featuring examples of the project and inviting others to participate has garnered over 36,000 notes on Tumblr in less than 24 hours.
Of course, not all of the response has been positive. "Attention whores," noted one Tumblr user. "Complaining about what kind of attention you attract when you seek attention?" Some cosplayers took to Facebook to complain. "Dress like a whore, get treated like a whore," wrote one.
Many women, however, are already taking the project into their own con spaces. "I'm going to a Con in Toronto today and I asked the photographer to please make a point of finding me so I can participate!" one cosplayer, scifrey, told Schweizer.
This isn't the first time projects like this have been done at cons. But in a geek culture where many conventions still take a hands-off approach to the topic, it might finally be the moment for the discussion around con harassment to sway in the right direction—especially if all it takes is a writeboard, a Flickr account, and a convention full of fed-up cosplayers.
Photo via 16bitsirens/Flickr