In Nic Pizzolatto's novel Galveston, Roy Cady, a grizzled hired killer on the run, muses, "Something passed close to me then, a feeling or piece of knowledge, but I couldn't quite get it. A sense of something I'd once known or felt, a memory that wouldn't come into the light. I kept reaching, but I couldn't grasp the thing."
That's what HBO's True Detective has done to the Internet fandom that's sprung up around it since debuting in January. Pizzolatto, who serves as the show's creator and executive producer, wrote that same philosophical, existential dialogue for Matthew McConaughey's stoic detective Rust Cohle, and his more amiable partner, Martin Hart, played by Woody Harrelson. There are now Tumblrs devoted to their conversations, and Cohle's winding monologues have gotten the Ryan Gosling treatment.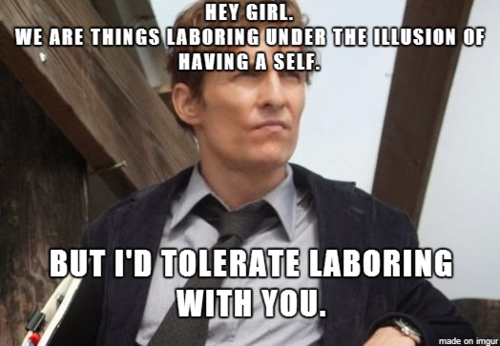 But it goes beyond just Tumblr memes. True Detective, expertly directed by Cary Fukunaga, is the first show since perhaps Lost to have the Internet invested not just in the weekly storylines, but in the theories, missed details, red herrings, and meta clues hidden within. Pre-Internet, this same mania was wrought from Twin Peaks fandom.
It's a show about two detectives' obsession with a serial killer in rural Louisiana, and, in turn, it has stoked the Internet's obsession with dissecting and interpreting every single detail of their story. It's made us meta-detectives.
What if True Detective is about Time Warner pic.twitter.com/B76aBczM1t

— Edith Zimmerman (@edithzimmerman) February 11, 2014
This obsessive fan-generated publicity, from people on Twitter and Facebook who often talk about the show in a sort of code, is impressive viral currency for HBO. Even scenes from the show have developed their own meta-fandom. Take the six-minute tracking shot from episode four, which fans dissected from every angle. (The scene was by tracked by Fukunaga and Adam Arkapaw, who was director of photography for another thriller worthy of obsession, Top of the Lake.)
The True Detective subreddit has become the Internet's de facto water cooler, around which fans gather to analyze recursive theories and blink-and-you'll-miss-it details. The show's iconography has also seeped into the pop-culture marketplace. The "Big Hug Mug" featured in Cohle's interrogation scenes recently sold for $85 on eBay.
And then there are the literary aspects of the show. Robert W. Chambers' 1895 short story collection, The King in Yellow, was connected to True Detective's many Easter eggs and references to a "Yellow King." In episode three, Reggie Ledoux, Cohle and Hart's suspect in the murder of prostitute Dora Lange, is shown in an image that's now become a meme, wearing a gas mask and carrying a machete. In the book, there are several references to the "Pallid Mask."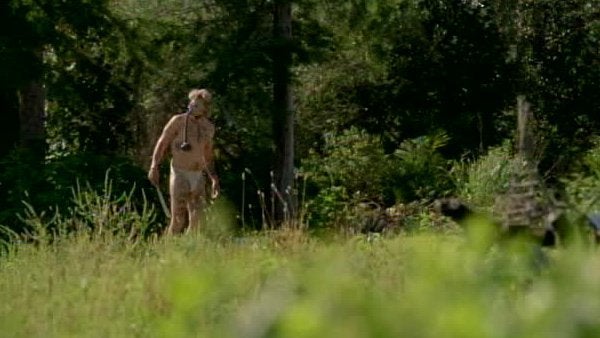 Due to meta-detectives' desire for clues to the bigger text, The King in Yellow hit Amazon's top 10 bestsellers list, a century after publication. And there's been at least once instance of Hart and Cohle being shipped. Pizzolatto's also done a nice job of keeping fans informed of the literary references.
"All truth is crooked, time itself is a circle."–Neitzche Before anybody asks.

— Nic Pizzolatto (@nicpizzolatto) February 17, 2014
There are other elements at work: The use of color in True Detective, and Pizzolatto's other works, certainly gives it the aura of a visual novel. Rust Cohle's name itself is two colors; in episode three, he mentions he experiences synesthesia. Blogs have picked apart Ledoux's tattoos and what they mean. T Bone Burnett, the show's musical director, has done an excellent job creating the mood: This Spotify playlist contains almost every song in the show so far.
This collection of True Detective fan art further proves the obsession with detail and interpretation. Last week, Mondo debuted a line of poster art inspired by the show, but Tumblr is home to several detailed works. Illustrator Clay Rodery thinks the show's storytelling is what has engaged fans:
"Longform narratives are today's media of choice.  And with a whodunnit you can rewatch it indefinitely, both while the season is still unfolding to pick up clues and piece the larger narrative together like the detectives, or when it's finished to see everything you missed. Then, of course, there is the revelation of The King in Yellow inspiration. It's funny: This gets dropped more-or-less mid-season, and everyone goes crazy, because suddenly there's a wealth of supplementary material people can try to append."
Nigel Evan Dennis helms a graphic art tribute to the show, which explores different theories via literal character sketches. (Spoilers.)
"I think an artist's personality is inherently obsessive," he says. "A bunch of collectors. So naturally, I dive in headfirst to things pretty intensely when it comes to creativity and art. The show lends itself to a lot of interpretation. It's just such an engaging show. It's easy to immerse yourself in it. You almost forget that you have when you're in it."
And much like Twin Peaks, it creeps up behind us and cleaves open our collective unconscious. We find ourselves thinking about dialogue and scenery days after, struggling to piece elements together so it makes sense. On the Internet, the meta-detectives piece those together on Twitter, Tumblr, Spotify, Facebook, and Reddit. Appropriately, it seems to be driving some of us a little mad.
This is the advantage of a weekly show: It lets fans dive into the curiosity gap. We keep reaching, trying to grasp the thing.  
Image by Cameron Stewart